New homes in Cringleford from £52,780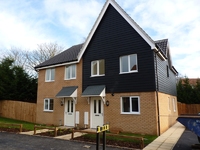 Thought you couldn't afford to buy a home of your own? Think Again! Orbit Homes has recently launched a selection of two and three-bedroom homes at Round House Park in Cringleford for sale with HomeBuy Shared Ownership with prices starting from just £52,780.
Located in the thriving village of Cringleford, Round House Park is perfectly placed to take advantage of both the stunning Norfolk countryside and the vibrant City of Norwich. A selection of homes at Round House Park are available now with prices starting from as little as £52,780 for a minimum 40% share of a two-bedroom home and £59,000 for a minimum 40% share of a three-bedroom home.
"Affordable home ownership opportunities in rural communities such as Cringleford are often few and far between." Said Aidan Weir, Regional Sales & Marketing Consultant at Orbit Homes
"This means that people who were born and grew up in the area are often forced to move away from familiar surroundings and the support of family and friends in order to find an affordable home."
"These homes have been developed with local people in mind meaning that residents of the Cringleford, Colney and Keswick parishes will be given priority for these homes."

HomeBuy Shared Ownership is designed to provide an affordable way to buy a new home; you purchase a share that is tailored to suit your circumstances and pay a subsidised rent on the remainder. In the future, if you wish, you can buy extra shares until you own your home outright.
The mortgage and deposit requirements of HomeBuy Shared Ownership are far less than those that would be needed if the same home were purchased on the open market and often the combined costs of HomeBuy Shared Ownership work out less than you would pay to rent a comparable property!
Round House Park has already proved incredibly popular with local buyers so don't delay, for further information about the homes at Round House Park visit orbithomes.org.uk.