Adlington to launch luxury retirement apartments in Heaton Chapel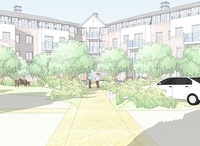 According to the UK National Statistics office, the population of the UK is growing in size and becoming increasingly older: by 2035, 23 per cent of the total population will be aged 65 and over. Offering apartments exclusively for the over-60s, which combine luxury living with bespoke 24-hour care, Adlington is targeting a discerning and rapidly growing marketplace, with the launch of a select development of retirement apartments in Heaton Chapel. Construction has started on site, with completion due in March 2013.
While Adlington concentrates on creating apartments, finished to an enviable specification, its partner, registered charity MHA (Methodist Homes for the Aged), provides the expertise behind the professional on-site care.
The concept fills a gap in the present housing market, providing for those who are looking to plan for their future, but don't want to compromise their independence or lifestyle – and the proof is in the pudding: Adlington already has a successful development up and running in Rhos-on-Sea, north Wales, which is on the verge of being sold out.
Located in spacious, leafy grounds, bordering Nelstrop Road and Meadows Road, this development of one, two and three bedroom apartments will offer a selection of delightful homes.
In addition to beautiful private accommodation and care packages designed to meet individual needs, home-owners will enjoy an on-site dining room, communal lounges, activity room, hair salon, guest suite and landscaped gardens.
The development is already proving popular, as Adlington's sales and marketing manager Claire Reede explains: "The development at Heaton Chapel is perfectly located, with shops, amenities and transport within easy walking distance. The response so far has been great, which backs our theory that there is a distinct gap in the marketplace – people want to remain independent as long as they can, and the fact that care will be available, in the privacy and comfort of their own home, meets this demand.
"It's not just people purchasing for themselves who are showing interest – we've had several enquiries from those looking for somewhere where their parents can be safe and secure, yet retain their privacy. In the long term, there's far less chance of our purchasers needing to move to a nursing home; therefore, the likelihood that couples will be split up is minimised. This is a very emotive issue for families, and the Adlington concept offers a welcome solution: independence now, alongside peace of mind for the future."
Designed in consultation with MHA, the apartments will feature a user-friendly, yet modern and stylish, specification set to impress. Kitchens will offer a host of integrated appliances, while master bedrooms have fitted wardrobes. All apartments have a patio or balcony, plus safety and security features, such as emergency call systems, which connect directly to the 24-hour on-site MHA care team and audiovisual intercom entry systems.
For further information about these exclusive new apartments, or to register your interest, visit adlington.co.uk.