Bloor embraces NewBuy to help buyers in Ampthill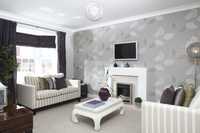 Bloor Homes is delighted to offer 'NewBuy', the Government scheme recently launched to help purchasers buy a new-build property. This means that at Bloor Homes' development at Ampthill Heights in Ampthill, buyers can secure one of the stunning new homes with just a 5% deposit!
NewBuy, developed jointly by the Home Builders Federation and Council of Mortgage Lenders, was launched on 12 March. The Government is backing the scheme to help buyers who have found themselves excluded from sections of the market because they don't have a large enough deposit. It is expected to assist up to 100,000 households in buying a new home.

Vanessa Macnee, Sales Director of Bloor Homes South Midlands commented: "We are always looking for viable ways to help people buy the home they want, so we are delighted to be in the one of the few house-builders offering the NewBuy initiative. This is good news for buyers in these challenging times as they are usually expected to save twice their annual income to have enough money to put down a 20% deposit."
Purchasers wishing to buy under NewBuy will choose a home that is being marketed as a NewBuy property. They will then need to secure finance from a lender who is also signed up to the scheme. NewBuy applies only to properties worth up to £500,000 in England. Unlike many homebuying schemes, it is not restricted to first-time buyers and there is no salary cap for eligibility.
One of the developments at which NewBuy will be offered is Ampthill Heights, Bloor's exclusive collection of three, four and five bedroom houses in Ampthill, Bedfordshire. Prices at Ampthill Heights range from £224,950 for the three-bedroom Fanhope, and from £359,950 for the detached four-bedroom Denda. So for purchasers looking to secure a new home here, they can do so from as little as £11,247.50.
Ampthill Heights is surrounded by open wooded countryside and picturesque villages yet it is still close enough to the M1 for those wishing to commute by road to Milton Keynes, Northampton, Rugby, Luton, St Albans and Watford. Also, with the expansion of its neighbouring town, Flitwick, there is an easy train link to both Bedford and London St Pancras.
For further sales information, visit bloorhomes.com.