Tamworth family races to new home in just seven weeks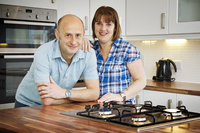 Local housebuilder Morris has helped a Tamworth family complete a stress-free move to their dream home at its Castle Gate development in just seven weeks.

Mark Harriott, 42, an aerospace engineer, and his partner Vicky, 43, a teacher, fell in love with a four-bed detached property at Castle Gate when they first viewed it in January, and used Morris' Part Exchange scheme to speed up the move.
Using Part Exchange, the developer purchased the family's previous property for 100 per cent of the market value, removing the hassle of selling it for the couple, who have lived in Tamworth for more than 20 years.
The scheme enabled sporty Mark and Vicky to escape a long property chain and unpack at their new build home less than two months later, allowing Mark to concentrate on a marathon challenge. The accomplished runner has challenged himself to complete 12 marathons in 2012, and will compete in one every month this year, including races in London, Edinburgh and Wales, to raise money for the Meningitis Trust.
Mark said: "Tamworth is a fantastic area to live in, and Castle Gate is in a great location for access to schools and work. On our initial visit to the development we were impressed with the stunning downstairs living space of the property, and we knew straight away that it was the perfect home for our three children to grow up in.
"We were keen to move quickly, so we used Morris' Part Exchange scheme, which is a great solution for buyers looking for a hassle-free process. Even so, we still didn't expect everything to be completed so smoothly, which is a testament to the fantastic help we received from the team at Morris.
"With the family settled in, I can now focus on my 12 for 2012 challenge. I have been running for four years, and have competed in quite a few marathons, but this is going to be my biggest test yet. Hopefully I can raise lots of money for the Meningitis Trust, and the sore feet will be worth it."
The Part Exchange scheme is available at Morris' popular Castle Gate development in Tamworth, which is perfectly located near to the motorway network for easy commuting into Birmingham.
Lynne Phillips, sales advisor for Morris, said: "Selling your current property is often the biggest obstacle for buyers looking to upgrade their home, but our Part Exchange scheme removes this hurdle and speeds up the moving process considerably.
"We are delighted that Mark and Vicky were able to move their family into their beautiful four-bed home so quickly, and we will be cheering on Mark throughout the year as he races around the country."
Morris has a selection of four-bed properties available at Castle Gate using the Part Exchange scheme starting from £279,750.

For more information about the schemes and properties available at Castle Gate, visit morrishomes.co.uk.