The 2012 Grand National on the BBC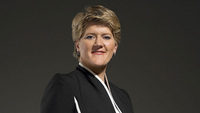 The BBC will bring comprehensive coverage of the 165th Grand National on TV, HD, radio, online and via mobile. Live coverage of the three day festival starts Thursday 12 April at 1.40pm on BBC Two and the BBC HD Channel.
Clare Balding and Rishi Persad present the BBC's TV coverage, and they are joined by racing legends Richard Pitman, Richard Dunwoody and Mick Fitzgerald who will be reporting and providing analysis from the paddock.
The BBC's expert commentary team is lead by Jim McGrath, along with Ian Bartlett and Darren Owen, and the popular duo of John Parrott and Gary Wiltshire will once again bring all the latest news from the betting ring over the three days.
Live BBC television coverage from Aintree includes five races each day on Thursday 12 April (from 1.40pm) and Friday 13 April (from 1.45pm) on BBC Two and the BBC HD Channel.
Saturday's Grand National programme on 14 April begins at 1.00pm on BBC One and BBC One HD.
On BBC Radio 5 live Cornelius Lysaght leads the coverage along with John Hunt and Luke Harvey. There will be live coverage of key races on Thursday 12 April and Friday 13 April, with a Grand National preview show, live from Liverpool on Thursday 12 from 7.30pm hosted by Clare Balding, with Mick Fitzgerald, featuring interviews with contenders for the National, plus a further preview in Friday's Kicking off with Colin Murray from 7pm.
On Grand National Day, Saturday 14 April, 5 live Weekend Breakfast comes live from Aintree (6-9am) with all the news, interviews and build up. Then from 12noon Mark Pougatch presents 5 live Sport live from the course, building up to the big race at 4.15pm.
In a big sporting day for Merseyside, the programme will include the four races before the National plus the FA Cup Semi-Final between Liverpool and Everton.
The BBC Sport website will have live and on-demand video of BBC races (UK only), archive Aintree action plus live text commentary on Grand National day. The site will have a handy guide to all the National runners and riders, along with the popular online office sweepstake kit, and details of all the BBC coverage, which will be available for seven days to watch on the BBC iPlayer.