Want to buy a home? Here's how you could do it!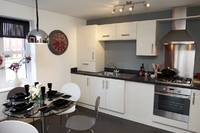 If you want to buy a home but struggling to find a way, whether for the first time or because you find yourself in new circumstances, FirstBuy could be the answer!
At Miller Homes' Fairfield Manor development near Wakefield, the house builder has used its excellent knowledge of the local community to provide fantastic and affordable homes through a variety of purchase incentives.
There is a great selection of one and two bedroom apartments available through the FirstBuy scheme, a Government initiative to help buyers onto the property ladder, not just those purchasing for the first time – which means that if you qualify you could only need a five per cent deposit of the purchase price of the property. Miller Homes and the Government could give you a twenty per cent equity loan meaning you could only need a mortgage of the remaining seventy five per cent of the purchase price.
"FirstBuy is a great way for buyers to be able to secure a brand new Miller Home and move them away from a rental situation into one where they are now a home owner," said Jan Hanaby area sales manager Miller Homes. "Our apartments at Fairfield Manor represent a worthy investment and they are proving to be very popular within the local property market."
One buyer who purchased a two bedroom apartment through FirstBuy at Fairfield Manor was Rob Berry.
"FirstBuy is a great help and I would urge anyone who is buying for the first time or perhaps find themselves needing to start again to visit their nearest Miller Homes development to ascertain if they qualify for FirstBuy," said Rob. "That, together with the Miller Homes team, made house buying for me, a really positive experience and I am thrilled with my brand new home – I can't thank them all enough."
One and two bedroom apartments at Fairfield Manor offer stylish and well designed accommodation in a peaceful and picturesque setting. All properties benefit from open plan living, well proportioned bedrooms with en suite facilities and a further bathroom. Prices start at just £94,500, or from just £75,600 using FirstBuy, for a one bedroom apartment and £125,000 for a two bedroom property. All come complete with flooring throughout and a free standing fridge freezer.
Fairfield Manor, Aberford Road, Wakefield, WF1 4JH is a thoughtfully designed and ideally located development, which offers a haven of tranquillity and pleasant open spaces, whilst being a mere half a mile from Wakefield's busy centre. There is also a good selection of primary and secondary schools, leisure facilities and country parks.
For further information, you may like to visit the sales centre which is open daily from 10.30am – 5.30pm. Alternatively, visit millerhomes.co.uk.