Barratt moneybox helps first time buyers onto housing ladder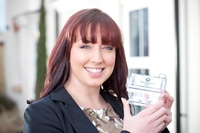 Barratt is helping first time buyers in Torquay take their first step onto the housing ladder with a series of events and initiatives to show buyers how easy it can be to own your own home.
Prospective buyers are being given a see through moneybox with the deposit they need on the roof to help them reach their target.
Barratt sales director Caroline Hill said that first time buyers need a deposit of just £5,198 to buy a one bedroom Thornworthy at Torre Marine – far less than they may imagine, hence the moneybox initiative.
First time buyers can pick up their moneyboxes at dedicated first time buyer events being held at the popular Torre Marine development, starting with a late night event on Thursday April 12 and continuing during Friday and Saturday.
Barratt will have a host of experts on hand to help first time buyers work out how much they need to save and they can also learn about schemes available to help first time buyers.
These include FirstBuy and NewBuy which are both helping buyers onto the housing market.
Under FirstBuy, buyers are offered a loan of up to 20 per cent of the price of the property, jointly funded by Barratt and the Government's Homes and Communities Agency.
They then have to find the remaining 80 per cent of the price themselves. Up to 75 per cent of this could be a mortgage, leaving a deposit of just five per cent.
The recently launched NewBuy heralds the return of 95 per cent mortgages for buyers of new homes, is already attracting enormous interest.
Around 20,000 potential homebuyers have already pre-registered their interest on the company's website nationally with the weekly registration rate now hitting 1,500.
Caroline said: "This is a significant change for the housing market in Torquay and we are seeing substantial levels of interest.
"Throughout the first time event we will explain how the new system will work and talk our customers through the reduced deposit requirements.''
For more details about the first time buyer events and current availability, visit barratthomes.co.uk.