New buy scheme opens doors for buyers at Bath Riverside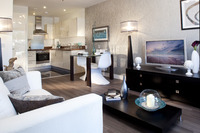 People in Bath looking to get onto the property ladder will now be able to purchase a brand new home at Bath Riverside with a deposit as small as £7,000 thanks to the recently launched New Buy scheme.
The Government backed initiative will see Crest Nicholson working in partnership with a number of different lenders to offer buyers access to 95% mortgages when purchasing properties under a £500,000 threshold.
This means that prospective buyers registering for the scheme would now be able to secure one of the recently launched studio apartments in Liberty Gardens at Bath Riverside, on the market for £139,950, with a deposit of £6,997.50.
"We know that a lot of people, especially young professionals, are renting apartments in central Bath because many mortgage offers have been withdrawn from the market in recent years combined with the fact there has long been a shortage of suitable, high quality properties available," said Susan Young, Sales and Marketing Director for Crest Nicholson Regeneration.
"The fact that the first of the apartments at Bath Riverside will be available for occupation in a matter of months means that we are now extremely well placed to meet this demand, and by helping buyers to access a 95% mortgage if they wish to, we can help them take advantage of the competitive pricing available across this first phase of Bath Riverside."
Crest Nicholson says that many individuals are already recognising the benefits of investing in this riverside location, particularly since the launch of its show apartments.
"We've had a fantastic response from people who have taken the opportunity to have a look around our show homes. I think the thing that takes everyone by surprise is just how spacious they are. The rooms are well proportioned and the layouts are designed to help create a homely feel. A lot of people have also commented on the high ceilings and natural light too," Ms Young said.
She added: "Bath Riverside's location is a major draw card – it's just 10 minutes from the city's shops, restaurants, and entertainment facilities and as the area is developed residents will not only have access to the private communal garden area within the Liberty Gardens phase, they will also have the revitalised riverfront area on their doorstep, including a large riverside park."
The New Buy scheme is not just for first time buyers, it also available to those who already own a property but are looking to take advantage of the benefits offered by state-of-the- art construction techniques and materials, such as being more energy efficient and requiring minimal maintenance, that a new build home can offer.
Homebuyers considering purchasing an apartment at Bath Riverside will have the option of choosing from a range of different flooring and tiling as well as selecting from a range of different layouts.
Also eligible for the purchase under the New Buy scheme at Bath Riverside are 1 bedroom apartments (from £169,950), 2 bedroom apartments (from £267,950) and 2 bedroom penthouses (£399,000). 3 and 4 bedroom townhouses at Bath Riverside are being marketed from £550,000.
The first apartments at Bath Riverside will be available for occupation this Summer.
For details on how to register for the New Buy scheme visit bathriverside.co.uk.