Worcester home owners can have their cake and eat it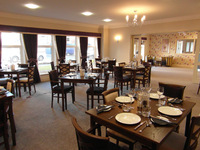 Downsize your home and upsize your lifestyle with a move to Eastbank Court in Worcester, where you can enjoy the companionship of like-minded individuals free from maintenance worries.
With a choice of one and two-bedroom apartments available to buy, the Aspen Retirement Living development is the ideal place for those who want to downsize without compromise. And to showcase the benefits of this enviable lifestyle, Aspen is inviting would-be home owners and their families to join them for coffee and homemade cakes this Saturday (April 21).
Liz Herring, sales and marketing manager for Aspen, explains: "We want people to understand that not all retirement housing is the same – Eastbank Court is much, much more than sheltered housing and is unique to Worcester. By throwing the doors open for people to come and take a look around, we're giving them the opportunity to see for themselves that downsizing is not about a lesser quality of life, but about retaining their independence and enhancing their lifestyle. The open day will give those considering a move to Eastbank Court a feel of how their life could change for the better."
With prices from £198,000, home owners can enjoy living in an apartment that's easy to manage and efficient to run, freeing up their time to strike up new friendships, enjoy a wealth of social activities and spend time in the communal gardens without getting their hands dirty.
"There's nowhere quite like Eastbank Court in the Worcester area as the development's been compared with a five star hotel or luxury cruise ship. The apartments are of excellent quality with facilities and services to match," Liz adds.
"Home owners can book a meal with family and friends at the on-site restaurant, which offers everything from a slice of cake to a three course meal, all served by friendly waitresses. Unusually for this type of development, we'll be opening a licensed bar so diners will be able to enjoy a glass of wine with their meal if they wish.
"The communal gardens are particularly lovely and, whilst they are regularly tended by a garden landscape company, our green-fingered residents are welcome to lend a hand with some finishing touches. Or if you don't want to get your hands dirty you can sit back and relax in the garden room, library or salon."
Regular domestic help is included and if home owners need help with additional chores such as ironing or shopping, these can be taken care of at minimal cost. There's a manager on site at all times so if a home owner needs assistance they won't need to go through a remote call centre to get help and will be assisted within minutes.
Located north of Worcester city centre, Eastbank Court is situated in a quiet residential area with shops and a chemist within walking distance.
The open day takes place this Saturday (April 21) from 10am until 2pm. For more information, visit aspenretirement.co.uk.