Make a change for the better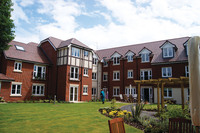 If you want to own an efficient to run, easy to look after new home but don't relish the hassle of selling the one you've already got, then talk to Aspen Retirement Living at Grange Court in Solihull.
They may be able to help you sell your current property – or even arrange to buy it from you – so that you can move quickly and effortlessly into a brand new apartment with all mod cons.
To make it easy, they're holding a special Part Exchange Open Day on Thursday April 26th, from 10am to 2pm. Just drop in and find out how Aspen can help you move – and enjoy some coffee and home-made cakes while you're there.
Liz Herring, sales and marketing manager for Aspen, explains: "Part exchange is often associated with the motor trade, but people may not realise they can also use part exchange to help them move. During our part exchange open day we'll be explaining how the process works and what other options are available for those who want to move to Grange Court but have a home of their own to sell.
"We may even pay their estate agent's fees at the end of the day."
With a choice of one, two and three-bedroom apartments available to buy, the development is the ideal home for those who want to downsize without compromise.
And there's now the chance for those considering moving to Grange Court to 'try before they buy'.
Liz adds: "We appreciate that some people may be unsure about moving, particularly if they've lived in their current home for a long time, and with that in mind we have kitted out an apartment where people can stay for up to a week to enjoy a taste of life at Grange Court. They will be able to get to know those already living here and take part in social activities including coffee mornings, keep fit sessions and games nights."
Home owners can enjoy all the advantages of independent living – but backed by the reassurance of friendly on-site support staff, an emergency call system with the option for more personal care to be arranged if it's needed in the future.
Serviced communal areas include a residents' lounge for those times when home owners want like-minded company, plus landscaped gardens and a guest suite for when family come to stay.
"Our communal gardens to the rear of Grange Court are surrounded by mature trees and are particularly lovely. Whilst they are regularly tended by a garden landscape company, our green-fingered residents are welcome to lend a hand with some finishing touches," Liz says.
"The ground floor apartments are ideal for those who perhaps can't manage a full garden but don't want to give up gardening as they each boast their own patio area where home owners can tend to their own tubs."
The part exchange event at Grange Court takes place from 10am to 2pm on Thursday April 26th. For more information, visit aspenretirement.co.uk.