Parks fired up to mark Olympic torch relay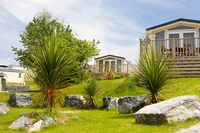 Park Holidays UK has committed to lighting up this year's Olympic Torch Relay with a series of celebration days when guests can come and enjoy the spectacle.

Torch bearers will be passing near to 18 of the group's 25 holiday parks in Devon, Southern and Eastern England in the run-up to the London Games.

In each area, Park Holidays UK has become an official "Local Leader" with the relay's Line The Streets campaign, joining other bodies helping to organise and promote the event.
Guests and holiday home owners will be able to enjoy fun activities and a party atmosphere on the parks on the days when the torch will pass, and witness the historic relay for themselves.

The Olympic torch will arrive in Britain on 18 May to begin its 70-day journey around Britain, and more than 8000 people have been chosen as bearers in local communities.

According to Park Holidays UK director Tony Clish, the company's parks will be the perfect venues for creating unforgettable Olympic memories: "Being part of the torch celebrations will probably be a once-in-a-lifetime opportunity for most people, and we are aiming to make it a very special occasion on all our parks," he said.

"We anticipate that many families will want to build a holiday break around the relays, and there will be no additional charges for these dates or the activities we'll be arranging," added Tony.

The company has already declared that it will not be increasing its prices during the period of the London Games, despite much higher than average booking figures in June and July.

Park Holidays UK is even allowing its current early-booking discounts to apply during the Olympic weeks, shaving up to £150 off a seven-day family summer holiday.

For would-be holiday home owners, the group has also nominated a range of Bronze, Silver and Gold holiday caravans at special prices which start from just £12,995.

The Olympic torch, symbolising peace and friendship, will be lit in Greece using the sun's rays, and will pass the first of the group's parks in Paignton, Devon, on 20 May.

Then, between 05 and 19 July, the relay will be marked by celebrations on the group's parks in Dorset, East and West Sussex, Kent, Essex and Suffolk.

For more information, visit ParkHolidays.com.