Eibach Dodge Challenger suspension kit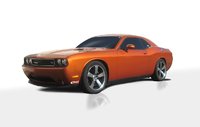 Eibach, the respected German suspension manufacturer, has launched an impressive spring upgrade enhancement for the latest incarnation of the iconic Dodge Challenger. Both the 5.7 Hemi and 6.4 SRT models are catered for.
As the global leader in OEM suspension technology, Eibach has unrivalled access to chassis and technical data for all USDM models, resulting in a kit that offers factory levels of fit and finish, but combined with substantial improvements in handling and control over the showroom model. This kit is produced in Eibach's SoCal factory, on the same production line that makes products for many of the USA's most legendary tuning houses.
The Pro-Kit contains four pre-stressed springs that lower the car by around 30mm, lowering the centre of gravity and endowing the Dodge with an aggressive stance. Thanks to Eibach's unparalleled research and development, these springs feature a unique 'progressive' coil that offers a softer section for everyday driving and commuting, combined with a stiffer, more aggressive section further up the spring to equip the car with precise road holding and cornering. This seamless progression offers true versatility, taming the prodigious torque from the Hemi motor whilst preserving the everyday nature of a true muscle car.
The springs have been carefully configured to work with the factory dampers and also benefit from a class-leading 5 year warranty.
The Pro-Kit retails at £239.13 + VAT .
For more information on the Eibach range of chassis enhancements, visit eibach.com.