New homes in Bedfordshire ideal for families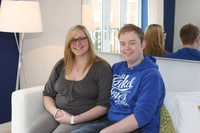 A Taylor Wimpey development of new properties in Leighton Buzzard is perfect for parents – and parents to be – as Emma Ballard and Sam Cooke discovered when they visited Heath Meadows.
When Emma and Sam decided they wanted to start a family, they were keen to leave London for a quieter location with good schools and a pleasant community where they could raise their children.
However, the rising cost of renting meant they were finding it hard to save enough for a deposit – that is, until they realised they could afford to buy a brand new property in Leighton Buzzard with the Government-backed FirstBuy scheme.
Now expecting their first baby in June, the couple are happily settled in a brand new three-bedroom townhouse at Heath Meadows, Taylor Wimpey's stunning development of new build homes for sale in Leighton Buzzard.
Emma explains: "It was hard trying to save up while we were renting, and the rent we were paying wasn't going towards anything, which was quite disheartening.
"We were trying for a family and we wanted to move somewhere with better schools and a nicer environment for children – and Heath Meadows was absolutely ideal.
"The fact that we were able to use FirstBuy to purchase our home here was fantastic, and we would never have been able to afford this house without it."
FirstBuy works through a joint loan of 20% from the Homes and Communities Agency (HCA) and Taylor Wimpey, which means that eligible Bedfordshire property-seekers only need put down a 5% deposit and obtain a 75% loan-to-value mortgage, subject to status.
The loan is repayable at the end of the 25-year mortgage term or when the property is sold. To be eligible, purchasers must be first-time buyers and their total household earnings should be less than £60,000.
Sam (24) works for General Electric in Farnborough and Emma (23) is a teaching assistant in Newham, East London – but even so, Leighton Buzzard, with its fantastic transport links, was an obvious location for the couple to consider for their family home. Sam grew up in nearby Hemel Hempstead and his mum still lives there.
Heath Meadows, with its friendly sales staff, peaceful setting and community feel, won their hearts and they were able to choose a spacious three-bedroom 'Elder' townhouse with the FirstBuy scheme.
Emma says: "Emily in the sales office at Heath Meadows was amazing. She really cares and if there was ever a problem she'd be chasing people up and putting your mind at rest.
"We also love how quiet Heath Meadows is compared to where we were living. When we visited there were children playing outside and it just seemed to be a really happy community."
The couple have already decorated the nursery of their new home in time for their daughter's much-anticipated arrival in June, which includes a mural painted by one of their friends featuring the baby's name, Eleni.
"We chose the 'Elder' because it's got more than enough space for a family, plus you have the master suite on the top floor, which is like your own getaway. Sometimes when you've got a family it's nice to have your own space."
Home-hunters looking to benefit from the great location and wonderful sense of community at Heath Meadows can currently choose from a range of three and four-bedroom homes priced from just £189,500 and two-bedroom apartments from £127,500.
Selected plots can be secured by qualifying first-time buyers for 80% of their full price under the FirstBuy scheme, full details of which can be obtained from the Sales Executive.
Heath Meadows occupies a convenient location in popular Leighton Buzzard, and is well served by local amenities, including a nursery and schools for children of all ages.
Lying just two miles from the town centre, the development is within easy reach of a wide selection of high street and independent stores, a twice-weekly market and a wealth of pubs, restaurants, health clubs and leisure facilities.
Quick links to London make a home at Heath Meadows highly desirable for commuters, with the A5 and M1 close by and the town's rail station offering regular services to the capital and the North. Those travelling further afield will appreciate that Luton Airport is only 18 miles from the development.
Heath Meadows Sales Information Centre is located off Churchill Road, Leighton Buzzard and open Thursday to Sunday from 10am to 5.30pm and 10am to 2pm on Mondays. Alternatively, visit taylorwimpey.co.uk.