Samsung Galaxy Y available now on Three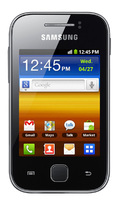 The Samsung Galaxy Y is a stylish, compact smartphone that's lightweight and slim, weighing in at under 100 grams. It has a 3.0" touch screen, and a fast processor which makes it great for playing games, switching quickly and effortlessly between apps and exploring the mobile internet. There's also plenty of internal storage and a 2GB memory card for downloading photos and apps from Google Play.
Sylvia Chind, head of handsets at Three said: "The Samsung Galaxy Y is a great smartphone for people who want quality and style at an affordable price. Three's Pay As You Go plans come with all-you-can-eat data so customers are free to enjoy everything the Samsung Galaxy Y has to offer without ever having to worry about how much they are using."
Pay as you go customers can get the Samsung Galaxy Y for £79.99. All in One 15 costs £15 and gives 30-day access to all-you-can-eat data along with 300 any-network minutes and 3,000 texts. Or All in One 25 costs £25 and offers 500 minutes, 3,000 texts and all-you-can-eat data for a 30-day period.