Buying off-plan proves a hit with Leicester's house hunters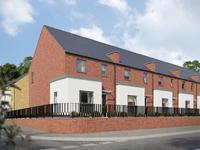 Westleigh New Homes is encouraging Leicester's property hunters to secure a new home at the best price, by purchasing off-plan at its new Belgrave Riverside development.
As construction work at the Ross Walk site gets underway, Westleigh New Homes is providing those shopping for a new home in the city with attractive properties at desirable prices. Buyers are already being drawn to the contemporary house styles and desirable location, having shown great interest in Belgrave Riverside early on.
Robert Orr, from Whetstone-based Westleigh New Homes, says: "Securing a property prior to its completion allows buyers to snap up their desired plot and house style at a fantastic price, while also making a good investment for the future.
"Buyers should never be put off by the idea of purchasing off-plan as there are numerous benefits they can enjoy; having first choice of the available plots allows you to secure the exact property that meets your needs and tick off all of the must-have features on your ideal home wish list. Also, buying a property during the building stage offers the opportunity to ensure those all-important finishes match your tastes and help make your home your own.
"Thanks to modern technology, we can provide detailed images of the properties you are interested in buying, so it's easy to see how our homes can fit your lifestyle."
The development, which sits on the site of the former British United Shoe Machinery (BUSM) works, will feature a range of three, four and five-bedroom houses, including a large number of three-storey house styles.
Generous, modern layouts and high quality craftsmanship are being brought together at Belgrave Riverside to create properties that maximise space and comfort for today's families.
So far, Westleigh New Homes has released 12 properties at Belgrave Riverside, with two houses already reserved by buyers.

Robert adds: "Our new homes at Belgrave Riverside are already capturing the attention of the city's house buyers; we've had a huge amount of interest in our off-plan properties so far, with visitors commenting positively on the contemporary house styles and sought-after location. We're creating a highly desirable community, with properties designed to appeal to couples and families moving up the property ladder."
Hundreds of local residents turned out recently to watch the demolition of a 35m high brick chimney at the Belgrave site which marked this next phase of construction at the scheme. Former BUSM apprentice Tom Keville won the opportunity to press the demolition button after donating £1,700 for local good causes at a charity auction.
Belgrave Riverside sits within easy reach of Leicester city centre and close to local schools and shops. Properties can currently be secured off-plan from £157,950. Find out more by visiting westleighnewhomes.co.uk.