Nelson Hotels heralds Steak Stones a sizzling success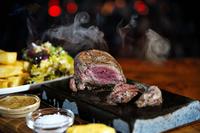 Just months after introducing the novel 'cook your own steak' experience, the Grosvenor Pulford Hotel & Spa – owned and operated by Nelson Hotels – is heralding the launch of its hot steak stones dining extravaganza a 'sizzling success'. After making their debut in the hotel's AA Rosette Ciro's Brasserie and gastro pub Nelson's Bar last November, they have moved to feature on the specials board of another of the group's properties, The Bear's Paw in Warmingham, which has recently gone from holding an AA Dining Award to winning an AA Rosette.
Executive Head Chef Leigh Myers believes this innovative way of dining is proving to be so popular because it puts control in the hands of the diner who is served a seared raw fillet steak on a sizzling hot stone, accompanied by chunky hand cut chips and several delicious dipping sauces. The diner cuts and cooks each mouthful exactly to their liking – whether that is rare, medium or well done – whilst the steak rests on the stone without fear of overcooking.
The exciting 'cook your own steak' option accompanies the already delectable rib-eye and fillet steaks served throughout the Nelson Hotels restaurants. Serving the finest, locally sourced 28-day aged beef – including Welsh Black and Bowland Beef – is just part of the secret; wonderful surroundings, and a wide choice of fine wines and real ales to accompany this increasingly popular British meal add to the whole dining experience. Fantastic food is at the heart of each Nelson Hotel restaurant, and with various AA awards between them, it is clear that they know a thing or two.
Leigh Myers comments: "This exciting addition to our menu has fulfilled all our expectations. Steak has always been a popular choice, yet diners' preferences over their steak vary enormously from rare to well done and everything in-between; so the chance to cook the steak freshly at the table is ideal, and one that our steak fans have been keen to experience. The 'Steak Stones' were such a hit at The Grosvenor Pulford that we've now introduced them to The Bear's Paw and we will also offer them at The Pheasant Inn at a later date and then continue to rotate them across the group's restaurants."