Visit Leonardo da Vinci's birthplace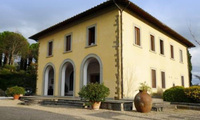 Leonardo da Vinci is one of Italy's most famous artists and Renaissance figures and his name comes from his place of birth, Vinci, a small town in Tuscany, just 45kms from Florence.
Leonardo da Vinci was born there in 1452 and much of his work includes paintings, frescoes, drawings, blueprints, machines, and early technological inventions can be seen in the town.
The Museo Leonardiano is in Vinci's small historic center. The museum shows many of da Vinci's drawings and over 60 models of his inventions, including military and travel machines.
La Casa Natale di Leonardo is the small farm house where Leonardo was born and is 3 kilometers from Vinci, and can be reached by a footpath through the olive groves. The rustic simplicity of the house is combined with a very modern museum display which details the life history of Leonardo and his ties with Vinci.
The house is deep in the Montalbano area which inspired his landscape drawings and his studies, and is an excellent starting point for exploring this area of outstanding beauty, where the natural features of the landscape alternate with old mills and ancient villages.
The best time to visit Tuscany is the quieter part of the season. June is perfect, when the weather is usually good, and there are fewer tourists.
Essential Italy is delighted to offer huge savings on this outstanding villa just a 10 minute walk from Vinci, for all stays in June.
Casa Nova in Vinci, Tuscany (sleeps 8)
essentialitaly.co.uk/tuscany_villas_casa-nova.php
15% off all bookings in June
With 4 bedrooms and 3 bathrooms, the amazingly furnished Casa Nova is beautifully positioned, surrounded by lovingly kept gardens, with infinity pool and amazing views. The house is grand; marble staircase, spacious bedrooms, exquisite bathrooms, the level of furnishing is very high and the elegant theme is continued throughout the whole villa.
The location of Casa Nova is superb, the back gate leads left up a hill to the birth place of Leonardo and right to the centre of Vinci where there are shops, restaurants and a museum dedicated to all things Leonardo da Vinci.
Location: Vinci 800 metres, Pisa 60kms, Florence 48kms, San Gimignano 46kms
Price: £3310 per week for stays in June (usually £3895)
For further information, visit essentialitaly.co.uk.