Turtle Wax waterless wash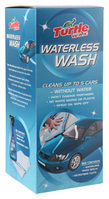 Don't let the hosepipe bans scupper car care plans with Turtle Wax's brand new Waterless Wash. The unique product gives drivers the freedom to safely and conveniently clean, polish and protect their car at any time, any place, without using even one drop of water.
With 17 more counties listed today as drought zones, there's no need to abandon car care, as the Waterless Wash removes the need for water and is the perfect product to use to ensure cars are left gleaming.
The fast acting special formula lubricates the surface, forming a protective barrier to help prevent scratches and buffs up to produce an instant long lasting shine to paintwork, plastic and wheels, while at the same time removing dirt and dust without leaving white marks on plastic or damaging the surface.
Simply spray onto paintwork, one panel at a time, and wipe off using the microfibre cloth, revealing a beautiful shiny surface.
The kit contains a Waterless Wash (500ml), which cleans up to five cars without water and an applicator cloth, and retails at £9.99 (prices may vary, please check with retailer).
All products stocked in Halfords.