5 key features that boost enquiries for Spanish holiday lets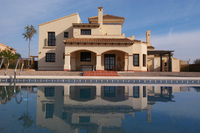 Investment in Spainish holiday properties shows no sign of decline despite the economic uncertainty. However according to ipsbmv.com, investors should beware that they may fail to make any money from their holiday let if they ignore the following features.
1. Location
This is an obvious one, but you might be surprised how many investors buy property in an area they like rather than an area their target market will be interested in. The right kind of property in the right location is sure to attract a regular supply of visitors according to ipsbmv.com, particularly if local amenities are good and there is a good choice of leisure activities including golf courses on the doorstep.
However according to ipsbmv.com, investors shouldn't rely on location alone, today's guest is equally demanding and according to ipsbmv.com overseas property investors should look at the following features based on a statistics compiled by espanabreaks.com very carefully:
2. Electronic gadgets
Investors might look to save money in this area by adding an old TV and a spare DVD player they have lying around and this is ok. Unfortunately the number of enquiries increases dramatically with the inclusion of WiFi and Internet access which attracts 19% more enquiries followed by a games console and a sound system.
3. The number of bedrooms, does size matter?
It certainly does whether the property is large or small. Guests actually prefer something small but not too small. So if investors think their 4-bedroom villa will attract guests willing to pay a premium then they may be mistaken. This is equally the case with smaller studios. 1 and 2 bedroom apartments on the other hand will attract 37% of the enquiries compared to 4-bedroom apartments at -34%.
4. Don't be afraid of reviews
Most people today know their way around the Internet, therefore an investor shouldn't be afraid of having reviews posted online. There are risks attached to letting your guests post their thoughts about your accommodation for everyone to see, however an open and honest approach will pay dividends by increasing interest by 36%. Just remember to keep guests happy with all those gadgets.
5. Comforts
We all like our comforts and when travelling abroad this is no different. Guests will appreciate some of those extra touches like a safe to store valuables, a welcome pack and importantly a hairdryer. These three items combined will boost enquires by between 14% - 21%. However don't think adding a cheap ironing board will make any difference whatsoever - this could possibly be too much of a reminder of home.
Jon Ainge, Director of ipsbmv.com comments, "There is no point investing in holiday lets and neglecting the furnishings. A good quality, well equipped villa or apartment that is well furnished and comfortable for guests will rent far better than a more down market property. It will also attract more visitors and generate that all important repeat business which is where most investors will generate income from their property."
ipsbmv.com are currently marketing 1 and 2 bedroom apartments in Murcia, Spain at 60% below original prices with mortgage payments from as little as €197 per month.