Introducing new Ultherapy - The ultimate non-surgical uplift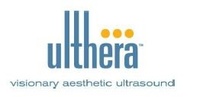 Esteemed ultrasound-focused medical technology company from the US, Ulthera, is delighted to introduce Ultherapy. Ultherapy is an entirely new and unique type of non-surgical treatment for the face and neck that uses ultrasound to tighten and lift loose skin without any downtime. The first and only ultrasound device approved for use in facial aesthetics, Ultherapy is FDA approved* and the only cosmetic procedure to use ultrasound imaging, which allows practitioners to see the layers of tissue targeted during treatment and ensure that the energy is delivered precisely to where it will be most productive.
The Breakthrough
For the first time ever, Ultherapy enables practitioners to direct sound waves not only into the skin, but also deep under the skin to address the fibromuscular layer — the layer typically addressed in cosmetic surgery. Besides the visible effects of lifting and tightening, there is also an invisible result from Ultherapy with the creation of new collagen, which helps the skin maintain its youthfulness.
The Technique
The beauty of Ultherapy is that it is a 30- to 60-minute procedure that uses the body's own subtle healing response to gently, gradually and reliably restore memory to the skin and its underlying tissue. Ultherapy requires no special recuperation or preparation and the majority of patients only need one treatment. Patients enjoy some initial effect immediately following the procedure, but the ultimate lifting will take 2 - 3 months, as tired collagen is rejuvenated and supplemented with new, stronger collagen. Further improvements can even appear up to 6 months following a procedure.
The Results
Ultherapy tightens, tones and actually lifts loose skin to counteract the effects of time and gravity. One of the first effects of gravity is that the brows descend, and the eyes start to appear smaller. Ultherapy will lift the brow, which in turn reduces the excess skin on the lids, opens up the eyes and gives a more refreshed appearance. The invisible (subclinical) effect of Ultherapy allows younger patients to stay ahead of the curve by effectively putting collagen in the bank - we call this Skinsurance!
The Experts
Some of the most high-profile and celebrated practitioners in the country are among the first to offer Ultherapy in the UK including Dr Rita Rakus, Mark Palmer, Alex Karidis, Simon Lee and Tracey Bell.
*Ultherapy utilises the Ulthera System, which is cleared by the FDA for use as a non-invasive treatment to lift the eyebrow to achieve a desired aesthetic effect.
For more information, visit ulthera.com.