Essential Sony products for your perfect summer holiday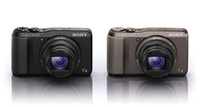 To help you capture those precious holiday memories with fun and creative features, Sony has the right camera for you.
For those seeking the convenience of a slim and lightweight camera but with great quality, the Cyber-shot DSC-HX20 offers an amazing and powerful zoom (20x optical) matched with creative feature options.
For the ultimate in portable shooting, the NEX-5N will let you explore your creative side with its compact size and easy to use features. The range of interchangeable lenses help you shoot pro quality results on the move.
Timing is everything so take perfect pictures every time with the SLT-A57. The fast shooting speed (up to 12 frames per seconds) combined with a continuous autofocus ensures you'll never miss those holiday moments. Complement your photo skills with the new Auto Portrait Framing that allows you to effortlessly create pro-style portraits of your friends or family.
Want to shoot one moment and share the next? The Handycam HDR-PJ260 with built-in projector has what it takes for shooting great HD quality videos that are steadier than ever, with the sharpest quality and clearest sound. Then all you need to do is dim the lights and project on any white surface to turn any exotic place into your own home cinema room.
And now there's no fear of losing those precious memories thanks to the x-ray-shock, water- and temperature-resistant SDHC memory cards. Ideal for fast shooting and quick transfer, there are no more worries of losing your shots thanks to the File Rescue software.
Share your images and videos with friends and family using the colourful (pink or green) USB Microvault style or simply upload them to Sony's new cloud-based service PlayMemories Online.
Enjoy outdoors and being on the move during your summer holidays
What greater moment than relaxing by the pool with a book on your holiday? You won't run out of books and you won't have to cram them into your suitcase if you take the super thin and light Reader Wi-Fi PRS-T1. The clear and glare-free display makes it easy to read for hours even in direct sunlight, and with the advanced touchscreen you can turn pages smoothly, pinch zoom in and out, look up words in dictionaries or even directly access Google and Wikipedia.
Complement this ideal holiday experience by playing your favourite music with the RDPV20IP speakers (also acts as dock /charger for iPhone and iPod). Fully portable thanks to its internal battery and remote control, you can take it everywhere with you, whether relaxing by the pool or enjoying a barbecue with friends, you can enjoy your favourite tunes with the balanced 3600 Circle Sound.
Postcards are nice, but don't forget the Sony Tablet S. Keep your friends and family posted about your holiday and don't let those lovely photos and video clips just sit in your camera. Simply slip your camera's SD card into Sony Tablet and start sharing from the detail-packed touchscreen. Besides staying connected, music, videos and games are also at your fingertips. Sony Tablet connects you with an exciting world of immersive online entertainment from Sony Entertainment Network and PlayStation Network.
Listen to your music and watch your videos in comfort thanks to the XBA-NC85D headphones. Small and light, these amazing noise-cancelling headphones let you enjoy an immersive noise-free environment with optimum sound quality while travelling.
Isn't it the most annoying thing when on the move you run out of battery, whether on your phone or your music player? Simply take along the portable and convenient CP-ELS USB power supply to use on the go and never again wish you had a plug by your side. Recharge anywhere and anytime up to one complete charge of your Smartphone.
All products are available in stores now for your summertime enjoyment.