Enjoy the yurt outdoors with a Green Eden torch-bearer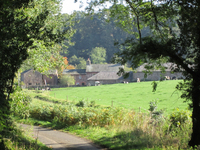 Resolve to flee from the stresses and strains of everyday life in 2012, by escaping to the idyllic and tranquil Drybeck Farm in Eden, Cumbria – an accommodation provider playing an integral part in the drive to make Eden the first low impact tourism destination in Britain.
Eden really is England's hidden gem – an area of which it is often said that life is like life used to be 30 years ago, full of tranquillity, delightful things-to-do, rich heritage, myths and legends and stunning scenery. These unique facets, underwritten by environment-friendly approaches, are being marketed by Nurture Eden, through a Green Eden project that will put the sensation into sustainable when it comes to tourism experiences.
Drybeck Farm, located near the small village of Armathwaite, is a torch-bearer for all that Green Eden stands for. It provides the perfect antidote to workaholism and enables couples, friends and families to chill out in luxurious, supremely comfortable, yet sustainable yurts, or in a stunning gypsy caravan, while enjoying a complete back-to-nature experience with a feel-good factor.
Life is played to a different rhythm at Drybeck Farm, punctuated by the sound of birdcall or the splash of otters in the river – the loveable creatures often being viewed by visitors from their canvas oasis. Holiday pleasures are enjoyed in the yurt outdoors, among the kingfishers, herons, woodpeckers, roe deer, red squirrels, badgers and buzzards that call the farm home. Drybeck also has horses, Dexter cows, Gloucestershire Old Spot and Saddleback pigs, free range hens and turkeys and is happy to allow youngsters to get involved with the animals' morning feeds.
Decelerating to the pace of life at Drybeck is easiest achieved when leaving the car behind. The farm can arrange pick-ups from Armathwaite Station, located on the Settle to Carlisle railway with connections into Leeds, and from Penrith or Carlisle- both on the London to Glasgow west coast line.
Although Mongolian-inspired, the yurts and gers here are very much local, made in Cumbria from local, sustainable timber and extremely cool, in an aesthetic sense. Their floor is raised, to keep guests dry and mud-free and old fashioned bedsteads, bedecked with soft, warm duvets and blankets, await the weary heads of those worn out by clean, fresh Eden air. Seating areas are ultra-comfy and a glowing wood-burner takes the chill out of any evening.
Facilities inside the yurts enable cuppas and quick snacks to be rustled up and a communal, outdoor kitchen has gas burners and a wood-burning oven. There is a fridge and freezer for everyone's use and washing-up facilities.
The atmospheric gypsy caravan is situated on the banks of the River Eden and equipped with soft, warm quilts and bedding, plus oil lamps that add that ultra-romantic touch to a night under the stars. A wood-burning stove, made entirely from recycled steel, helps create that snug, safe feeling, while outside, you can live the traveller lifestyle by cooking your breakfast of Drybeck Farm bacon and eggs on an open fire. All guests receive a free Drybeck breakfast hamper, full of tasty, home-reared food that delivers the smack of the country that everyone raves about once they return home!
Dry, compost toilets help make this a very sustainable stay and water from the showers is recycled and used on the farm's vegetable patch. Eco-friendly soaps and shampoos are provided free-of-charge.
There are fabulous walks right on the doorstep, whether guests walk along the River Eden's banks, to head to Wetherall to perhaps catch a train to Carlisle, or take up another suggested route. The lanes around the farm are quiet and perfect for cycling trips and the local pub is only a short hop away. If you have to bring the car, you can drive to the Northern Pennines, Hadrian's Wall and the Solway Coast and see scenery that will contrast dramatically with that of Eden's rolling, pastoral hills and offer different insights into Eden's relationship with neighbouring areas..
The first 2012 bookings available at Drybeck Farm will be for March 2012 and early booking is advised, as the farm is fast acquiring a reputation for its 'real glamping'. Additionally, it is holding its 2011 prices for all bookings made before January 31, 2012, so it pays to book now. If you take advantage of this offer, a weekend in a 4-person yurt costs £330 and a full week £525. A weekend in the gypsy caravan (sleeping 2) costs £180 and a full week £350. Mid-week stays are available for both yurts and caravan and a bell tent can be booked alongside the gypsy caravan to accommodate another 4 people.
Book online at drybeckfarm.co.uk. Information about other Nurture Eden members who can help you achieve a more sustainable stay in Eden can be found at agreeneden.org.