Discover the roots of modern design in the cultural heart of Germany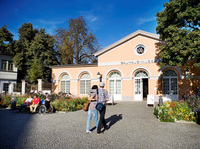 More than 90 years after its foundation, Bauhaus, the world's most famous art and design school, captures the public's imagination more than ever.
In 1919, Walter Gropius established the Bauhaus School in the town of Weimar and assembled the whole of the European avantgarde of the time in Thuringia to teach at the new school of design. "Haus am Horn", the most famous example of Bauhaus architecture, was built as a model house for the first architecture exhibition in 1923. In Jena, just a few miles east, the municipal theatre which was demolished in the 1980ies was the first building to put Bauhaus principles into practice.
Today, the Bauhaus mansions "Haus Auerbach" and "Haus Zuckerkandl" bear testimony to Jena's commitment to the ideas of the design school. In Erfurt, the next in the trio of major Thuringian Bauhaus cities, 1920ies industrialists, art patrons and local art associations promoted modern artists. Entrepreneurs such as shoe manufacturer Alfred Hess boosted the profile of Bauhaus architecture by commissioning several commercial buildings in the city, now striking features of Erfurt's cityscape.
Weimar offers special guided Bauhaus city tours, and the Bauhaus Museum features more than 200 exhibits, 85 of which will be on show at the Barbican exhibition. In Thuringia, visitors can even stay in a Bauhaus hotel: The "Haus des Volkes" (house of the people) in Probstzella at the former inner German border is the largest Bauhaus ensemble in the region, built by architect Alfred Arndt. It underwent extensive renovation over the past years and now features a three-star hotel.
Travellers on the Bauhaus trail can continue their tour through the Cultural Heart of Germany in Saxony-Anhalt where the movement found a home in Dessau in 1926 in a new building designed by Walter Gropius. Today's "Bauhaus Dessau - Centre of Design" is a vibrant institution specialising in experimental design, research and teaching and offers guided tours for visitors. Not to be missed are the so-called "master houses" built in 1925/26 which unite the Bauhaus concepts of living and working: Tours are available in the restored double house shared by Paul Klee and Wassily Kandinsky, the Muche/Schlemmer double house and the Feininger house.
A unique example of a Bauhaus model house has just been opened again to the public after extensive restoration: "Haus Anton", built in 1926, is the only model house of the Bauhaus housing estate Törten in Dessau that was maintained in almost its entirety. The Törten estate was built between 1926 and 1928 according to designs by Walter Gropius to meet demand for affordable accommodation.
Last but not least, arty travellers needing further inspiration can turn to the first ever travel guide to all the German Bauhaus sites that has been published this year by Dumont, "Bauhaus Travel Book. Weimar. Dessau. Berlin - All Roads lead to the Bauhaus."
Further information on the Cultural Heart of Germany: culturalheart.info