The Better Breakfast has arrived at Tossed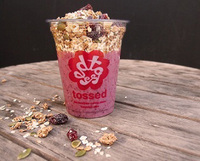 Taste the latest creation from Tossed, the high street healthier eating place, from Monday 23 April and boost your day with a better breakfast.
The new, delicious fusion of smoothie and muesli, eaten with a spoon, not a straw, is SMUESLI, hitting the high street from next week. Strawberry Start, Berry Boost and Pineapple Pickup are made fresh to order for £2.95, and contain only natural ingredients, from fresh fruit to skimmed milk and fat free frozen yoghurt, and Tossed's own muesli blend.
Part of Tossed's new 'Better Breakfast' range also launching next week, SMUESLI is set to become a favourite breakfast on-the-go for those in a hurry, with its nutritious, filling, tasty yet light blend of ingredients with only around 330 calories.
'SMUESLI came from our own research and from observing people grabbing a smoothie on their way to work, in an effort to pack in some of those five-a-day', says Vincent Mckevitt, 30, the young founder of Tossed. 'By adding our own blend of muesli, which we believe has just the right combination of taste, crunch and colour, we are packing in also some good low GI carbs which are slowly released, to keep you full until lunchtime'.
If it's something hot you are after, also new at Tossed is the Hot & Healthier Wholewheat Muffin range, high in protein, low in fat, with Trimmed Bacon & Egg (271 cals), Sausage & Egg (338 cals) or Egg, Roasted Tomatoes & Italian cheese (322 cals) to choose from, and all at just £1.95.
For those after a morning carb fix, but just a little bit healthier, there are delicious Wholewheat Croissants at 95 pence, made with low GI wholewheat flour to provide a steady stream of energy and lots of seeds which contain good omega fats. With Balanced Breakfast Pots, Wholegrain Toast and Topping and much more, a better breakfast has never tasted so good.
Some of the best coffee on the high street is found at Tossed - it hast the triple organic, fairtrade, Arabica beans certification - and now also try the fresh mint tea and the organic hot chocolate.
'We already serve some 20,000 breakfasts a week in London' continues Vincent Mckevitt. 'With the 'Better Breakfast' we aim to show Londoners that healthy eating is certainly not boring'.
There are currently eight Tossed venues in London, with more openings planned later in the year. For more information, visit tosseduk.com.