'Olympics effect' is changing London's dating and socialising scene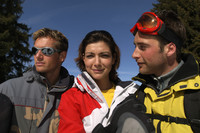 London-based singles and dating membership club, Dinner Dates, has spilt the beans on the top five interests that both men and women find sexy and engaging, when it comes to members of the opposite sex and says the Olympics are helping to change the dynamics of dating within London.
When it interviewed a cross-section of its members, it discovered that men in Greater London find the following interests attractive in a woman:
1. Sport
2. Yoga/Keep Fit
3. Dance
4. Home Décor/Design
5. Cookery
On the other hand, London-based women find the following attractive qualities in the new men that enter their life at a social dating event.
1. Sport
2. Cookery
3. DIY
4. Foreign languages
5. Music
Dropping down to 9th in the rankings of what women find attractive was 'executive power' which ranked behind creative arts participation (6th), community work (7th) and photography (8th).
Dinner Dates owner and director, Cynthia Spillman, puts the ranking of these factors down to two main influences on London life – the Olympics and the recession. She says: "All of the talk is about sport this year, participation in sport, which Olympic events to go and see and how to get fitter and allow the Olympics to have positive health benefits. This is rubbing off on us and we are going sport crazy, as well as discovering that sport is one interest that can bring the sexes together and spark off really interesting dinner conversations.
"The other influence is the recession. We are increasingly finding ourselves staying in with partners, rather than going out, so we want to make sure that the people we spend time with have interesting hobbies to talk about, rather than just boring us with accounts of what happened in the Boardroom".
Dinner Dates is discovering that members who have a strong interest, or an array of several hobbies, are really increasing their social circle through its events and are often the most successful when it comes to finding their 'special someone'. The moral of the tale is to get a work-life balance through an interest, use it strategically by joining a singles organisation and enjoying a strong relationship with a new partner, because you have interesting things to talk about.
More information about Dinner Dates is available from dinnerdates.com. Membership operates like that of a gym, with a one-off payment of £199.20 (inc VAT), with an £11 a month top up. Members then just pay for the ticket cost of the event they wish to attend, whether that's clay pigeon shooting, a Jubilee afternoon tea or an evening of exotic cuisine.