Alfresco cooking launched at Wiltshire food lovers pub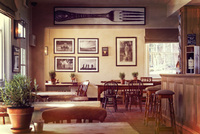 Renowned for its excellent locally sourced food and fine wines, the King John Inn has just launched its latest project; the Victorian Inspired Summer Kitchen, an outdoor cooking and dining space styled by Interior Designer Gretchen Boon, one half the of the pub's entrepreneurial landlords. ????
The outdoor kitchen is situated on the top tier of the pub's terraced garden and will allow Head Chef Simon Trepess to extend the already mouthwatering food offering to include modern summer classics such as grilled lobster from Poole bay and pigeon salad. ????
The kitchen will feature a customised barbecue, cook top and serving area, plus a bar-height spot in front of the cooking are where diners can watch the chefs in action.
The outdoor space has capacity for 40 diners on all three levels and will include a chef's table for 4, 2 first-come-first-serve large refectory style tables and 8 bookable tables on the lowest levels.
Private parties may be booked free of charge for a minimum of 20 people and will include a bespoke menu. The King John also has a live music license for band performances.
Owner Alexander Boon said " The idea of the summer kitchen came about because we wanted to build on the already buzzing atmosphere the garden has on sunny afternoons and warm evenings. The natural step was to bring the chefs outside to enhance this and in keeping with the era of the pub we decided on a delightfully romantic Victorian aesthetic. We're hoping our guests will appreciate being able to watch the chefs work their magic and we've got plans to offer cooking workshops at weekends. "
Head Chef Simon Trepess added "The chefs and I are really excited about the Victorian kitchen as cooking in an outdoor environment will inspire us when we are creating our new summertime menus which already includes foraging. We're looking forward to being able to watch guests enjoying our food as well as the added bonus of fresh air and sunshine, a rarity in most kitchens!"
Overnight stays at the King John Inn start from £120 for two people including full English breakfast and morning papers. For more information, visit kingjohninn.co.uk.