Sensational new 'free from' range from Free & Easy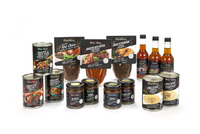 For those living with dietary restrictions such as food allergies or intolerances, food shopping can present a monumental challenge.
With this in mind, 'free from' brand Free & Easy has unveiled an exciting new range of great tasting foods and drinks to help home cooks create delicious and nutritious dishes for the whole family - whatever the dietary requirement.
Free & Easy's unique new range of soups, sauces, ready meals, curry pastes, gravies, and soft drinks blends wholesome ingredients, spices and seasoning to create rich and satisfying flavours for easy, nourishing and healthy meals.
Free from wheat, gluten and dairy, as well as other allergens such as nuts, celery and mustard but bursting with full-on flavour, Free & Easy foods and drinks have been made without artificial additives and preservatives, are low in salt, sugar and fat and are also suitable for vegetarians and vegans alike.
The latest statistics from the charity, Allergy UK, estimate that 45% of the UK adults suffer from food intolerance, while 2% have been diagnosed with a food allergy. But despite the fact that such a large proportion of the population is affected, food shopping remains a key hurdle for those living with or catering for food intolerance or allergy.
Created by a group of specialist chefs, Free & Easy foods and drinks have been designed to make shopping for - and cooking - delicious, 'free from' food an easier task.
Free & Easy - the simple and speedy way to prepare mouth-wateringly flavoursome 'free from' food for the whole family.
Products from the Free & Easy range are available from Sainsbury's, Tesco, Waitrose, Morrisons and all good health food and fine food retailers, priced from £1.11. Products are also widely available through good online retailers. For further information, visit healthyfoodbrands.co.uk.