FirstBuy is a life-changer for Sussex family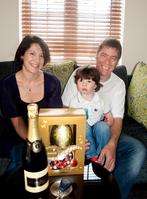 Emma Morris and Andrew Durkin have achieved their dreams of property ownership at last thanks to a Government-backed shared equity scheme which finally unlocked the housing market for them – and also showed them the benefits of living in a brand new home.
Emma admits that when they started looking for a new place, they hadn't thought about getting a new-build property, but they have no regrets now they are settling into their new Bovis Home at Meridian End in Peacehaven along with two-year-old son Stanley – all thanks to FirstBuy.
Paying less each month than they were in rent, and being able to put the money into the bricks and mortar of a quality three-bedroom family home with garage has been a life-changing experience for medical secretary Emma and HGV driver Andrew.
"We had rented for ten years but we dreamt of owning our own place - and not paying anyone else's mortgage – for all that time!" said Emma. "It has all happened very quickly and six months ago we really didn't imagine we would be living in our own home.
"The thought of paying towards our own future and having a lovely new, clean, warm house has made us both feel more positive and content with life."
FirstBuy is designed to get first-time buyers, or those re-entering the market, onto the property ladder. It works with a joint 20% loan from the Government and Bovis Homes, with the purchaser only needing a 5% deposit and a 75% loan-to-value (LTV) mortgage which will come at a much lower interest rate than higher percentage LTV mortgages in the market place. The buyer has 25 years to pay back the equity loan, of which the first five years are interest-free.
"FirstBuy turned out to be our only option if we wanted to buy our first property," said 33-year-old Emma. "It was proving to be impossible to raise the £40,000 deposit we would have needed on the open market and the FirstBuy scheme meant we could put down a £10,000 deposit.
"Initially we were only thinking about the second-hand market because we always assumed you get more for your money. However, since moving into our new Bovis Home we have been pleasantly surprised with what a new-build has to offer."
Bovis Homes will steer the homebuyer through the process, offering them access to an independent mortgage broker and Local Homebuy Agent who will check eligibility and talk through all the figures.
Bovis Homes South East Regional Sales Operations Director Chris Roads said: "The help is now out there for first-time buyers to make their move onto the property ladder. FirstBuy is a powerful new addition to our portfolio of purchase assistance schemes and is proving tremendously popular with south coast buyers.
"Emma and Andrew's case is not unusual - rents have gone up, interest rates are at historically low levels and that makes a compelling argument to buy a new home. Why rent when you could buy?"
At Meridian End FirstBuy is available on two, three and four bedroom homes, with prices beginning at £164,950. At that price the buyer would need a deposit of less than £8,250 and have an initial mortgage of less than £123,750.
For more information about the remaining Meridian End homes, FirstBuy or other purchase assistance schemes, visit bovishomes.co.uk.