FirstBuy available with new homes in Telford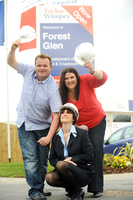 Shropshire property-seekers Amanda Hughes and Simon Mottram secured their first house with a 5% deposit at Taylor Wimpey's Forest Glen development of new build homes in Telford.
Finding out about the fantastic FirstBuy scheme gave Amanda and Simon the perfect chance to finally secure a brand new property in Telford.
The couple had been living apart with their respective parents while they struggled to save enough money for a deposit on their first home, wasting hours travelling to see each other every week.
But when they discovered they could secure a property with just a 5% deposit under the FirstBuy scheme at Forest Glen, Taylor Wimpey's development of houses for sale in Telford, they suddenly had fresh hope that homeownership was within their reach – and now Amanda (37) and Simon (32) are just weeks away from picking up the keys to their very own place.
"I heard about FirstBuy while looking online for properties in Telford," says Amanda, a sales representative. "I then called Taylor Wimpey and asked one of their helpful Sales Executives to explain the scheme to me. It sounded perfect, so I booked an appointment to view the plans and properties at the Forest Glen development."
FirstBuy allows qualifying first-time buyers like Amanda and Simon to access selected properties at Forest Glen for just 80% of their full price – including a 5% deposit, subject to status.
"By the end of our first visit to the development, we had picked a property and now we are finally set to become homeowners – and it's all thanks to FirstBuy," adds Amanda.
"The scheme has made a massive difference and allowed us to secure a brand new property at Forest Glen with a just small deposit."
As well as reducing their required deposit and opening up a wider range of mortgage deals with lower monthly repayments, FirstBuy also enabled Amanda and Simon to secure a much larger home than they had expected.
"We've bought a three-bedroom detached house with a garage and a nice big garden. It will be finished for the summer, so we are busy choosing the finishing touches like the flooring, carpets and tiling we want.
"And because we spent less on our deposit by using FirstBuy, we have some money left over and we can afford to by all the furniture and accessories we need for our new home!"
FirstBuy is currently available at Forest Glen with a choice of two and three-bedroom properties, including the delightful two-bedroom 'Morgan' terraced house, which is available under the scheme for 80% of its £146,995 price tag – and that's just £117,596, including a 5% deposit of only £7,350.
This Government-backed scheme works through a joint loan of 20% from the Homes and Communities Agency (HCA) and Taylor Wimpey, which is repayable at the end of the 25-year mortgage term or when the property is sold. To be eligible, purchasers must be first-time buyers and their total household earnings should be less than £60,000.
Meanwhile, four-bedroom homes are also on sale now from £189,995 at the development, and are available with the leading housebuilder's Part Exchange scheme.
This sees Taylor Wimpey offer purchasers with a property to sell an agreed price for their existing home, based on the average of independent valuations.
Full details about FirstBuy and Part Exchange, including terms and conditions, are available from the Sales Executive.
Forest Glen is part of the groundbreaking community of Ironstone, which comprises four distinct neighbourhoods and has been carefully designed to offer a bustling social hub, a combination of contemporary and classical architecture, public open spaces and a host of local amenities, including a supermarket, offices, shops, community facilities and a primary school.
For commuters, the village is well served by both existing and planned public transport links, while the M54 and M6 are only a short drive away, with Telford's vast array of shopping and leisure opportunities located less than three miles away.
Ironstone Management Services (IMS), a joint venture between Bournville Village Trust and Beth Johnson Housing Association, will deliver Stewardship at Ironstone, which includes estate wardens, enhanced community communications and events, digital technology and high-quality landscaping. Residents will also be encouraged to become actively involved and to make decisions about the future of their village.
To find out more about how Taylor Wimpey can help aspiring homebuyers secure a brand new property at Forest Glen, visit the Sales Centre, located off Lawley Drive, Telford, TF3 5HL, and open daily from 11am to 5pm. Alternatively, visit taylorwimpey.co.uk.