Help the environment by going veggie for National Vegetarian Week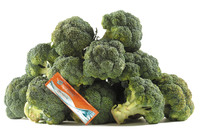 National Vegetarian Week (NVW) is 21st – 27th May 2012 and is the UK's annual awareness-raising campaign promoting inspirational vegetarian food and the benefits of a meat-free lifestyle. Created by the Vegetarian Society and celebrated for 20 years, the week gives individuals the free promotional tools and inspirational recipes to give vegetarianism a go. This year the focus is on veggie breakfasts and includes 3 interactive competitions.
There are a number of benefits of putting down your steak knife in favour of going veggie in support of NVW, including both your health and the health of the environment. If everyone in the UK went vegetarian or vegan it would have the same environmental benefit as taking half of all cars off the road, according to new researchi. In the study they estimated that the combined greenhouse gas emissions from the foods we eat in the UK are the equivalent of 167 million tons of carbon dioxide, and switching to vegetarian diets could cut this by between 22 and 26 per centii. So if you fancy doing your bit for the environment, there is an easy solution!
Hala El-Shafie, Specialist Dietician and Clinical Nutritionist from The Harley Nutrition Clinic and founder of nutrition-rocks.co.uk comments: "If you are a vegetarian, then there's some important information that you need to be aware of."
If you are following a vegetarian diet then it is important that you eat a balanced and varied diet to ensure you get sufficient protein from your diet by eating vegetable based protein sources such as beans and pulses with every meal. Other vitamins and minerals which can typically be low in a vegetarian diet include vitamin D, vitamin B12, iron, selenium and omega 3-fatty acids, these can be achieved provided you ensure a healthy balanced variety of foods are eaten in the diet. In some cases people may need to look at taking a supplement to support a healthy vegetarian diet such as iron predominantly found in red meat. "
Iron nutrition presents a real challenge for veggies as not only is it one of the most difficult nutrients to absorb, it is commonly recognised that meat, especially red meat, is the best source of iron with up to 22% of the iron available absorbed by our bodies, compared to 1-8% from eggs and vegetablesiii. It is therefore not surprising that non-meat eaters struggle to gain enough iron from their diet alone, which is why iron supplements, with added Vitamin C to aid the iron absorption, can be particularly beneficial for vegetarians.
Spatone Apple combines the unique natural liquid iron supplement Spatone with added Vitamin C to aid the iron absorption. Spatone Apple contains Spatone spa water sourced from the Welsh mountains of Snowdonia National Park - which can help top up your iron levels whilst causing fewer of the unpleasant side effects often experienced with conventional iron supplements iv. Generally, iron is a very difficult mineral for the body to absorb. However, the iron naturally present in Spatone has been shown to be easily absorbed, with up to 40% bioavailabilityv, compared to 5- 20% from food and other iron supplements. The additional Vitamin C in Spatone Apple helps you to absorb iron, that's why each sachet of Spatone Apple includes added vitamin C.
Spatone Apple is available exclusively from Boots priced £9.95 for 28 sachets (4 weeks supply). For mail order go to spatone.com.