The hottest little smokery in the West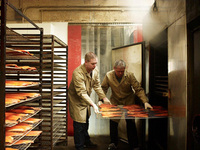 Smoking can be seriously good for your health. No, we're not talking tobacco - we're talking hot-smoked kippers, salmon, haddock, chicken, venison and all the other seriously delicious produce to come out of the hottest little smokery in the West.
Chesil Smokery in Bridport, Dorset, is the brainchild of managing director Mark Firth, who has been hooked on fishing ever since leaving school at the age of 18 to become a gilly on the Spey, and has travelled the world in his pursuit of all things piscatorial. Now he has channelled that passion into restoring an old smokery at Bridport and helping it to rise, quite literally, from the ashes.
Using English oak and apple wood in its kilns to produce a beautifully sweet and delicate aroma, Chesil Smokery sources only the finest produce - the fittest, leanest salmon (never fatty or oily) from the icy waters of the Shetlands; fresh fish from Samways, the famous fish merchants of Bridport, and the tastiest and freshest free-range chicken and poultry from Creedy Carver of Crediton, Devon. What's more, all the wonderful fish, meat and poultry have lived the right kind of life (as far as humanely and practically possible).
Says Mark: "We are justifiably proud of the taste and quality of our smoked food. We source from the most local, ethical and ecological sources that we can, and have found, through experience, that when producing the best food, you cannot turn a sow's ear into a silk purse. We only use the best ingredients - and we like to think it shows."
The full range of delicious smoked fish, meat and poultry from the Chesil Smokery is available from chesilsmokery.com. Each product comes loving wrapped in wool insulated envelopes (which is a great little material to keep hold of for hanging baskets and cushion stuffing). A monthly box scheme is also in the pipeline so customers can sign up to a regular delivery of fishy, or meaty smoked goodies - keep an eye on the website for more.