Unique 'reccee' trekking trip to Southern Albania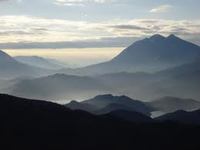 Walks Worldwide is offering adventurous trekkers the chance to join a unique 'reccee' trip to 'The Mysterious South' of Albania departing 15 September.
The 'reccee' trips which have an air of unpredictability about them have proven extremely popular with Walks Worldwide's customers; following the reccee, the trips usually become a regular feature of the Walks Worldwide programme. Last year's reccee to the Accursed Mountains of northern Albania has subsequently become a best-selling trip.

The adventure will begin on the coast, before heading inland to cross a pass that leads to the 'Laberia' highlands of the south. Few tourists are ever seen in the region and some nights will be spent staying in village houses with local people; an exceptional insight into life in this remote corner of Europe.
The trail continues through unspoiled valleys, passing isolated villages along the way. As the route heads back towards the coast, the vegetation becomes noticeably Mediterranean with olive groves and vines.
Once the group reaches the old hill village of Qeparo on the coast, it might be possible to spot the Greek island of Corfu across the water in the distance; the island might be physically close but culturally it is a million miles away.
There will also be a chance to visit the Llogora National Park and the fortress of the infamous Ali Pasha before descending to the pristine beach of Gjipe.
The itinerary will also feature a hike to the summit of Mount Cika's Kore (2005m) to enjoy a stunning mountain and sea panorama. Heading out of the mountains over the curiously named Deep Pass, the trip will conclude back in the capital Tirana for a night in this relatively buzzing city.
The unique reccee trip, which will be strictly limited to 10 people, will depart on 15 September and cost from £655 pp. The price includes 7-nights' accommodation (5 nights in hotels, 2 nights village houses), most meals, airport transfer on arrival, professional English-speaking guide, overland transfers, main baggage transfers by road.
For more information, visit walksworldwide.com.