Baxters Loch Ness Marathon - surrounded by scenery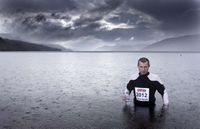 From London to Loch Ness, marathon routes could not be much more different. That's why the organisers of this year's Baxters Loch Ness Marathon are inviting runners worldwide to compare the streets of London with the country roads of Loch Ness.
There are great marathons around the world, many of them particularly marked by their setting, and Baxters Loch Ness Marathon ranks right alongside them.
Baxters Loch Ness Marathon & Festival of Running takes place on Sunday, 30th September, and has again been voted by Runners World readers as one of the greatest marathons in the country.
Runners start the race in the wildness of moorland towards the south end of the iconic loch. The route passes through stunning open countryside down into the quietness of lochside miles, through supportive local villages and into Inverness over the beautiful River Ness to the finish line.
Malcolm Sutherland, Race Director said: "Baxters Loch Ness Marathon & Festival of Running is a notable fixture on the international running calendar with the scenic beauty of the area and the legend of the Loch Ness monster proving a major attraction for runners from around the world. The opportunity to put such a memorable marathon on their record has been a really strong pull for thousands of runners of all abilities from countries as far afield as USA, New Zealand, South Africa, Germany, France and Ireland.
"We're very proud of the reputation we have established over the years, and comments from runners show that they are thrilled with the location, the scenery, the route and the organisation of the event - "brilliant and quirky support", "top marshalls and organisation", "you'll finish with a smile on your face", "the views on the vast majority of the route are simply outstanding."
"A runner who neatly summed up the event said "I wanted to complete at least one marathon in my lifetime and I wanted it to be an iconic and unique experience - Loch Ness certainly didn't disappoint."
Sutherland concluded: "We're expecting over 9000 runners this year, and hope that many people who have only ever run in city marathons will accept our invitation to come and experience the difference of running the scenic country roads around Loch Ness."
Entry is open for the 2012 Baxters Loch Ness Marathon and Festival of Running including the Baxters Loch Ness Marathon, Baxters River Ness 10K, 10K Corporate Challenge, River Ness 5K Fun Run and Wee Nessie. Entry is guaranteed for all marathon runners until 1st July or sooner if race limit is reached, although charity and club runner places will still be available after this date. To enter any of the races or for further information visit lochnessmarathon.com.
Audrey Baxter, Executive Chairman of Baxters said: "The Loch Ness Marathon has gone from strength to strength and Baxters are honoured to be the title sponsor for the 11th consecutive year. The run provides an opportunity for all ages to come together and celebrate a truly fantastic sporting event. Whether it's the Wee Nessie, the Corporate Challenge or the 10km, the event offers a platform for both running novices and seasoned pros alike."
Paul Bush OBE, chief operating officer for the national events agency EventScotland, said: "The Baxters Loch Ness Marathon & Festival of Running is a fantastic event, which will undoubtedly capture the imagination of both participants and spectators in this Olympic year. Scotland is the perfect events stage, and what better location than the stunning Loch Ness to take on a marathon, with spectacular views and a challenging but hugely rewarding route."