95% mortgages now available at Park Central, Birmingham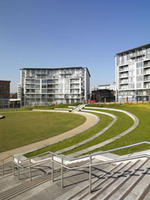 Househunters looking for their first home at Crest Nicholson's Park Central development in Birmingham city centre will now be able to get mortgages of 95 per cent; symbolic of the property market prior to the credit crunch.
Under the government's NewBuy scheme, first time buyers will be able to secure a 95 per cent mortgage with an agreed major high street lender, meaning purchasers will need a deposit of just five per cent.
A two bedroom apartment at Park Central, priced at £143,500, can now be purchased under NewBuy with a deposit of as little as £7,175. Nationwide is the latest bank to join the scheme and has been signed up as the agreed mortgage lender for the NewBuy scheme at Park Central.
Ruth Williams, sales manager at Park Central said: "Understandably there are going to be many questions surrounding the government's recently launched NewBuy scheme and our sales team are on hand to help with any queries you may have. It's a great opportunity for first time buyers looking to get onto the property ladder, as it means the return of five per cent deposits when in recent years the figure has looked more like 20 per cent."
Recent statistics from investor experts InvestorBee.com state that it will take the average person in the West Midlands 13.6 years to save a 20 per cent deposit for a property in the local area.
Ruth continues: "Being told that it could take people more than a decade to save for a 20 per cent deposit highlights the potential that NewBuy can offer many first time buyers. There is a world of difference between a five per cent deposit with a value of £7,175 and a 20 per cent deposit of £28,700 for a two bedroom apartment. What's more at Park Central, NewBuy is available on both one and two bedroom apartments which means first time buyers have a wide variety of luxury homes to choose from."
The latest phase of apartments have now been released for sale in Lincoln building at Lower Parkside which overlooks the Sunlit Park and Wildflower Meadow at the development.
Starting in price from £99,950 for a one bedroom apartment, all the homes at Park Central have modern fixtures and fittings, double bedrooms, designer kitchens and bathrooms, and spacious balconies boasting views across the eight acres of landscaped public parkland.
Bordered by Bath Row and Lee Bank Middleway, and just minutes from The Mailbox, Park Central is an award winning Crest Nicholson development. For more information on Park Central visit the new marketing suite, which is open daily from 10am to 5pm and is located at Park Central, Spring Street, Birmingham B15 2GD. Alternatively, log on to parkcentral.co.uk.