Glitzy Olympic swimmers reveal all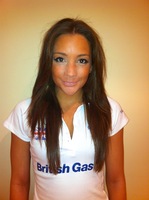 Last year Great Britain's synchronised swimmers learned they would be guaranteed host-nation places in both the duet and team events at the Olympics, a great achievement for our GB team. British Olympic synchronised swimmers, Kate Skelton and Asha Randall, are part of the GB team and have a vigorous training schedule ahead of the Olympics later this year. This Olympic sport may well look glamorous, graceful and glitzy but their routines are gruelling.
Their training involves more hours per week than the average office job as they train 6 days a week, totaling 42 hours. They spend eight hours a day in the pool working on their routines. 13 hours a week is land based training, including strength and conditioning sessions where they will be in the gym using weights, doing core workouts, gymnastic work and Pilates, they also do landrill which involves performing their routines on land.
The routine that the team will be performing at the Olympics will last around three and a half minutes and they hold their breath for three quarters of the routine. Their routines are like running a 1500m race, holding your breath on the last 100m sprint while moving your arms around elegantly making it look effortless and smiling at the same time – this is no easy task!
Synchronised swimmers Katie and Asha take the natural liquid iron supplement, Spatone Apple, daily to top up their iron levels. Iron is essential mineral for these athletes as optimised iron levels can contribute to maximum performance since iron facilitates; oxygen efficiency, which is extremely important when their sport requires them to hold their breath under water for prolonged periods.
Synchronised swimmers Katie and Asha comment: "Competing at the Olympics will be the pinnacle of our synchro career to date, it will be a dream come true and something we have worked extremely hard for. It will be a honor to represent our country. It is very important we maintain high energy levels for our 6 days a week training, and we find taking Spatone Apple daily helps to improve our energy levels and increases oxygen efficiency."
Watch out for the 2012 synchronised swimming events that will take place at the Aquatics Centre in the Olympic Park from 5-10 August.

Spatone Apple combines the unique natural liquid iron supplement Spatone with added Vitamin C, which is suitable for athletes and busy women alike. Its great tasting, no need to mix apple flavour means you can carry it with you, ready to take a shot when you need it.
Spatone Apple contains Spatone spa water sourced from the Welsh mountains of Snowdonia National Park - which can help top up your iron levels whilst causing fewer of the unpleasant side effects often experienced with conventional iron supplements . Generally, iron is a very difficult mineral for the body to absorb. However, the iron naturally present in Spatone has been shown to be easily absorbed, with up to 40% bioavailability , compared to 5- 20% from food and other iron supplements. The additional Vitamin C in Spatone Apple helps you to absorb iron, that's why each sachet of Spatone Apple includes added vitamin C.
Spatone Apple is available exclusively from Boots priced £9.95 for 28 sachets (4 weeks supply). For more info visit spatone.com