New, Mini Bypass Pruner from Darlac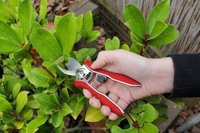 The new Mini Bypass Pruner from Darlac is more than handy and practical - it's super stylish too.
With comfortable, ergonomically designed, red handles this little pruner is easy on the hands and on the eye; and at just 15cm long, it fits snugly in your pocket, so wherever you are in the garden you're always prepared for a little light pruning!
With rust resistant, stainless steel blades the Mini Bypass has a cut capacity of 10mm, but what makes it even better is the invaluable, single handed locking mechanism; just squeeze the handles and push the catch forward and the pruner is safe to pop back in your pocket.
Darlac also offers a new leather holster to keep pruners safely tucked away. It can be used with or without a belt and is stitched and studded for extra strength.
These Mini pruners are perfect to cut back any stragglers you might find or to keep handy when out walking or hiking.
It is always worth remembering to clean and oil after use and keep pruners super-sharp with Darlac's award winning Fine Diamond Sharpener.
Darlac products are available from garden centres nationwide. For further information, visit darlac.com.