Homes at Park View in Longbridge remain popular than ever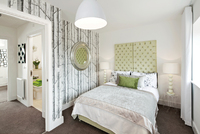 The sales team at St. Modwen Homes' Park View development in Longbridge has revealed that sales have increased month on month in the first quarter of 2012.
Bucking the trend of many residential developers in the local area, more than 75 per cent of homes have now been sold at Park View, many to first time buyers.
The developer has also revealed that many of the younger househunters visiting the site are looking for homes where they can start families which has resulted in the two bedroom Cofton house receiving the most enquiries at the development.
Neil Simpson, residential sales and marketing director at St. Modwen Homes said: "It is great to see that Park View is still proving so popular, especially amongst people living in the local area. After all, St. Modwen Homes wanted to develop the former MG Rover site into a residential area that both existing and new residents can enjoy, helping to create a sustainable community.
"It is understandable that in the current market first time buyers are looking for houses which will prove to be a home they feel comfortable in both now and in the future. Our two bedroom Cofton houses allow space for young couples thinking of starting a family or even for those wishing for a bit more space to use as a study or spare room for guests. We've already had two new babies born to families at Park View so it's a very exciting time."
Built on the former MG Rover site in Longbridge, the two bedroom homes start in price from £149,500 and come with a turfed rear garden and parking space as standard.
Neil continues: "When purchasing a new home I would encourage househunters to draw up a checklist and keep this list in mind when viewing a property. It is our aim when we're designing new homes to stick to the key features we know people are looking for, helping to tick off all those points on a buyer's list. So at Park View, Electrolux kitchen appliances, designer Porcelain bathrooms and spacious living areas all come as standard. Visitors to the site are always commenting on the high quality homes here which is great to hear and incredibly rewarding."
Located off the tree-lined boulevard of Lickey Road, Park View is a collection of individually designed, luxury apartments and houses which benefit from their adjacent position to the 135 acre Cofton Park. A fully-furnished Cofton two bedroom show home is now open to view seven days a week between 10am to 6pm and a two bedroom show apartment will be launched at the end of the month. A luxury four bedroom show home will be released soon after.
Park View is the first housing development in the UK by St. Modwen Homes and it is being delivered in partnership with the Government's Homes and Communities Agency (HCA).
The Park View show homes are located off Lowhill Lane, Longbridge, Birmingham, B45 8DE. More details on this new residential development can be found at parkview-longbridge.co.uk.