Fitness studio coming soon to Quartermile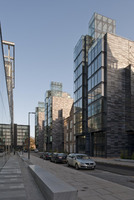 Edinburgh's luxury Quartermile development is soon to be home to a state-of-the-art, 2,000 sq. ft fitness and dance studio. Fitness Chicks has signed a 15 year lease and is due to open in August 2012.
Fitness Chicks will employ 15 members of staff, offering a wide variety of fitness and dance classes exclusively for women from yoga and power Pilates to hula hooping and belly dancing.
Designed to appeal to women of varying fitness levels and abilities, the new studio will offer a vast timetable of classes and workout sessions, as well as personal training for those looking for a bespoke exercise programme. A selection of membership options will be available at Fitness Chicks, as well as a beauty salon.
Sarah Munro, director at Fitness Chicks, said: "Both myself and fellow Fitness Chicks director Laura Westwater have invested a lot of time in sourcing the perfect location for the new Fitness Chicks studio, but nothing has come close to the space we're leasing at Quartermile.
"The central location of the development is ideal for both us and our clients, as it's easily accessible for women in the area looking for somewhere to workout. It's also much bigger than the previous studio we used, allowing us to cater for more people and run more classes. As experts in women's fitness, we feel our new location at Quartermile will allow us to offer a very personal, unique and friendly workout experience for a range of local women.
"Quartermile has a fantastic history and we're really looking forward to being part of that and adding to the diverse offering at the development."
Fitness Chicks was set up in 2008 by Sarah when, through running her own fitness classes and personal training sessions, she recognised a niche in the market for a studio that was specifically designed for women. Laura then came on board as a personal trainer and they initially held classes in church halls and community centres in the local area, before they decided to set up a small studio in Marchmont in 2009, from where they currently operate.
Lorraine Paterson, sales and marketing director at Quartermile, said: "We're really looking forward to welcoming the Fitness Chicks team to Quartermile and the fitness and dance studio really will complement the existing clients at the development.
"The new Fitness Chicks studio is sure to appeal to a wide variety of our residents and, thanks to Sarah and Laura's dedication and enthusiasm for getting people fit and healthy, we're sure Fitness Chicks will be very successful."
The award winning Quartermile development, master-planned by Foster + Partners, is located in Edinburgh city centre a quarter mile from Edinburgh Castle and the Royal Mile. Edinburgh's business districts, universities, courts and leisure facilities are all close by.
For more information about Quartermile, visit qmile.com.