Stratford set for 'Westfield effect' on property values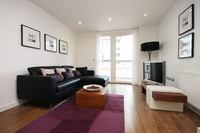 The opening of Westfield Stratford is one of many factors pointing towards good long-term prospects for those looking to buy property at its Stratford Halo development. It seems the 'Westfield effect' has already been felt in Shepherd's Bush where asking prices increased last year by 11.6 per cent according to figures from Hamptons International which is part attributed to the improving image of the area and the opening of Westfield.
At Stratford Halo, Genesis is offering a collection of brand new shared ownership apartments with prices from £53,125 for a 25% share of a one-bedroom apartment, based on a full market value of £212,500. Ideally positioned, the development provides the opportunity for first time buyers to benefit from the advantages of living at a landmark development overlooking the Olympic Stadium.
Stratford Halo occupies a prime position at the main entrance to the Olympic Park, alongside the Westfield shopping mall. Buyers here stand to benefit not only from the excitement of the Olympic action, but also from the wide array of new amenities and improved transport links now on the doorstep. Thanks to shared ownership opportunities at Stratford Halo, first time buyers can get their foot on the property ladder in one of London's most buzzing locations.
Buying under shared ownership is designed to help buyers who cannot otherwise afford to purchase their first property on the open market, allowing them to buy the share of their home that they can afford (at least 25%), and pay a subsidised rent on the remaining share of the property.
They can increase their share at any time, right up to 100% and outright ownership. It is open to buyers whose total annual household income is less than £60,000 and they should have savings of about £3,500 to cover moving and legal costs.
New to the market are a range of one- two- and three-bedroom apartments in Opal Court and Ruby Court. Available in a variety of layouts, each home has spacious open plan living area and its own private outside space in the form of a balcony. The homes are finished to a high quality specification, including designer kitchens complete with Bosch appliances, and wood-strip flooring and carpets.
Stratford Halo is a mixed-use development comprising 704 new homes across five buildings, as well as retail, commercial and leisure space and workspace studios. It offers a wealth of features not usually associated with affordable housing: CCTV, secure underground parking spaces and a car club. Despite its convenient location, the development enjoys a peaceful riverside setting surrounded by landscaped grounds, which include a children's play area and a riverside promenade. A range of other new facilities and amenities, including schools, hotels, parks and health centres, are planned for the wider area.
Stratford is now one of London's best-connected locations thanks to huge investment in infrastructure, meaning residents can enjoy a speedy commute into Central London, the City and Canary Wharf. It is served by the Jubilee and Central lines on the London Underground, the Docklands Light Railway and overland rail services, including the High Speed domestic rail services that will allow commuters to travel into central London in just seven minutes. In the future, Stratford will have a station on the Crossrail line, providing Eurostar international services to Paris and Brussels.
Prices start from £53,125 for a 25% share of a one-bedroom apartment, based on a full market value of £212,500. Two-bedroom homes start at £68,750 for a 25% in a property worth £275,000. Three-bedroom homes are priced from £87,500 for a 35% share, based on full market value of £350,000.
For more information, visit genesishomes.org.uk.