New Hydrating Firming Serum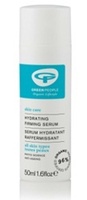 Natural radiance and a flawless complexion go 'hand-in-hand' with Green People's latest skincare addition - New Hydrating Firming Serum.
This multi action skincare essential is a unique 2 in 1 hydrating serum and skin toner - making it a perfect face primer and a great addition to any make up bag.
A dual-purpose organic formulation that effectively more than doubles the production of collagen and helps to reduce wrinkles by 7%. Used over time and as part of a daily skin care regime, this little gem will improve skins elasticity and offer increased long-term firming and toning of the skin.
Suitable for all skin types. Simply apply to the face and neck after cleansing to hydrate and lock in moisture whilst also firming and toning the skin to even out skin tone and create a silky smooth base, ideal for applying and fixing make up.
96% Certified Organic. Contains Chamomile, Seaweed & Rose Geranium. Combine with Rejuvenating Facial Oil for an added moisture boost.
For more information, visit greenpeople.co.uk.