Enjoy the benefits of outdoor living all year round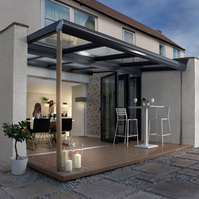 Making the most of your outdoor space has never been easier, thanks to a new range of modern glass extensions. Utilising innovative solar control products from the Pilkington glass product range, with the new distinctive contemporary designs available from industry specialists Ultraframe, this new breed of conservatories is the perfect addition to any home.
Offering a new take on the traditional atrium-style room, the Veranda collection can be designed to complement any style and size of property. Blurring the traditional boundaries of indoor and outdoor living, this new style of conservatory combines the best of both to create the ultimate addition to your home.
The Veranda style, incorporating a glass roof with a number of various roof options, has space-saving bi-fold doors, and opens up the home to the great outdoors, creating a dramatically larger living space and allowing homeowners to make the most of their space all year round.
In the Veranda glazed extension, the glazing bars oversail the main roof and carry the glass with it, forming an extended overhang, which gives the space a grand feel. This extended roof allows you to feel like you are spending time in the garden even when the 'great' British weather fails to live up to name. This sheltered space acts as a cocoon away from the elements in which to retreat, relax and still enjoy the outdoors.
This new Veranda style means that your extension becomes more than just a conservatory and in fact becomes a useful glass extension to your home which can be used all year round. Many homeowners might not realise that the type of glazing they use can have a big impact on the use-ability of the room throughout the year.
It's important to ensure that the inner pane of the insulating glass unit is a low emissivity glass such as Pilkington K Glass. Thermal control is a key issue in terms of energy saving and is the perfect glazing solution for ensuring your glass extension retains as much heat as possible, particularly in winter months. The outer pane of the insulating glass unit should include solar control properties, in order to minimise solar heat gain, therefore helping to keep your extension cooler in the summer months.
Pilkington have a number of products in their product range that help reduce solar transmittance, however, if you choose a roof design with at least a 15 degree slope to it, the perfect solution is Pilkington Activ Blue the world's first self-cleaning glass with the added benefit of solar control properties.
This clever glazing product has a unique dual action microscopic coating, which reacts with daylight to break down organic dirt. Then, when rainwater hits the glass it spreads evenly, running off in a sheet and taking the loosened dirt with it. It also dries quickly, reducing streaks. The frequency of manual cleaning is dramatically reduced. If it does not rain for an extended period all you need to do is give the glass an occasional hosing.
So, whether it's the height of summer, or a crisp winter's day, a modern glass extension is a chic and practical space for all the family to enjoy.
For more information on Pilkington K Glass, visit pilkington.co.uk/kglass.
For more information on Pilkington Activ, visit: pilkington.co.uk/active.
For more information on Ultraframe, visit: ultraframe-conservatories.co.uk.