Hosetechnik classic MG custom performance brake hoses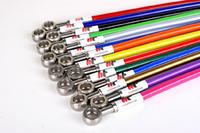 Forge Motorsport's Hosetechnik brakes lines have rapidly become a performance essential for many top-level race teams and performance car owners, but the firm also offers a plethora of fitments for the multitude of classic MGs that still grace our roads.
Each set of these ultra-high performance lines is custom made, by hand, in Forge's Gloucestershire factory, and will dramatically improve the efficiency and safety of the braking system. The original rubber hoses, which can bellow and stretch with age, cause inefficiencies in the operation from pedal to pad, so replacing them makes great sense.
Many of the more popular MGs, such as the MGA, MGB, TF, BGT and CGT are all available for next day delivery, but even if your Abingdon automobile is of a slightly rarer flavour, the Hosetechnik technicians can replicate practically anything from a photo of the originals, or better still, having the OEM parts to pattern. Any old tired rubber hoses can be quickly and easily copied and remade into shiny new braided Hosetechnik hoses, carrying a lifetime guarantee.
Hosetechnik has built up a wealth of knowledge on the applications needed to fit these popular cars. As each car is often unique, with a huge variation in caliper type, union style or occasionally, even having after-market brakes fitted, Hosetechnik can happily accommodate any custom build requirement, usually turning even the most unusual of requests round by the next working day. By providing an optimum rate of fluid transfer from pedal to pad, Hosetechnik brake hoses improve pedal feel and braking efficiency, improving the driver's confidence.
The Hosetechnik range draws heavily from Forge's thirty years of engineering excellence and these new hoses lead the market in terms of their specification. The lines themselves are Teflon-lined braided stainless steel, with custom-machined stainless end fittings. Forge's unique production process combined with their exemplary levels of quality control and inspection mean that every single hose meets or exceeds all current FMV. ADR, LTSA, DOT and TUV legislation, making these upgrades totally legal in any market globally.
No less than 12 hard-wearing 95PVC sleeve colours available to protect against dirt and water ingress… and best of all, you can actually ring up and speak to the technician who is building your hoses, whilst your order is pending.
More details can be found at hosetechnik.com Prices start at £45.27 for a three line set.