Moisturise with Marigolds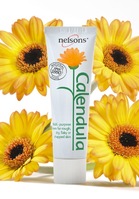 Have the winter months left your hands feeling chapped and dry? Are you experiencing dry, flaky skin as a result of harsh cleaning products? Do your hardworking hands need a bit of TLC from running a busy household? You are not alone! A recent Nelsons survey has shown that more than a third of women suffer from dry hands as a result of household chores on a day to day basis. However, help is at hand! Nelsons is pleased to announce the launch of Nelsons Calendula, a cream to help relieve your hands of the effects that cold weather, busy lifestyles and chemical cleaning products can have on delicate skin to leave them feeling smooth, soft and revitalised.
Made from 100 per cent natural calendula, Nelsons Calendula gently soothes hands of the effects that harsh chemicals and cleaning products can have on delicate skin. Calendula is part of the marigold family, famous for its skin conditioning properties. Free from parabens, Nelsons Calendula is gentle enough to be used every day and will have your hands looking revitalised in no time – perfect for women for whom hard work seems never ending!
TV Doctor and Health Writer, Dr. Ellie Cannon, comments: "Chemicals found in day to day detergents and some beauty products can be extremely irritating to all skin types and should be avoided where possible. Using a moisturiser, such as Nelsons Calendula cream, will leave skin soft and smooth and, as Nelsons Calendula cream does not contain any commonly used chemicals that are known to irritate skin that many other beauty products may do, it can be used as often as required."
Priced at £4.65 for 30g tube and £6.35 for a 50g tube and available from Boots, Holland & Barrett and independent pharmacies and health food stores, treat your worn out hands to a bit of the pampering that they deserve! You will see the effects in no time and you can rest assured knowing that your hands will never look or feel neglected again.