Hosetechnik Ferrari 308 and 328 performance stainless brake hoses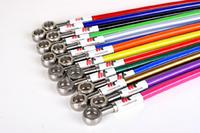 Forge Motorsport's Hosetechnik division has released a range of ultra-high performance brake hoses for the 308 and 328 range of Ferrari cars.
With prices on these superb classics steadily rising, any service part that can be replaced with a superior quality, 'fit and forget' upgrade has to be a good idea, and the Hosetechnik lines, with their hand-finished, Teflon-lined braided stainless steel bodies and custom-machined stainless end fittings certainly fall into that category.
Forge's unique production process combined with its exemplary levels of quality control and inspection mean that every single hose meets or exceeds all current FMV, ADR, LTSA, DOT and TUV legislation, making these upgrades totally legal in any market globally.
The original lines, or even quality OEM replacements don't offer the same pedal feel and confidence-inspiring feel as the Hosetechnik parts, due to their old-fashioned rubber-wall construction. Under load, the walls of the factory-style brake hose can 'bellow', losing efficiency and wasting some of the effort between pedal and pad.
All GT4, GTB and GTS models are catered for, in both 308 and 328 variants. If you're lucky enough to own something from Maranello with a rare or unusual set-up, or indeed, if your road or track car has a bespoke brake package, Hosetechnik's in house production facility in Gloucestershire, UK can create virtually anything in just a day or two, either from a good photo or drawing, or by patterning the original parts. Any old tired rubber hoses can be quickly and easily copied and remade into shiny new braided Hosetechnik hoses, carrying a lifetime guarantee.
The Hosetechnik range draws heavily from Forge's thirty years of engineering excellence and these new hoses lead the market in terms of their specification. The lines themselves are available in no less than 12 hard-wearing 95PVC sleeve colours available to protect against dirt and water ingress… and best of all, you can actually ring up and speak to the technician who is building your hoses, whilst your order is pending.
More details can be found at hosetechnik.com. Prices start at £60.35 for a four line set.