New Brabantia designs bring a touch of glamour to household chores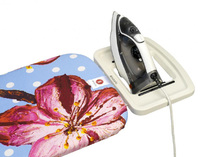 Brabantia, well known for fusing beautiful design with innovative functionality, is introducing two unusual and elegant new designs to its stylish range of ironing table covers - Cherry Blossom and Gecko.
And, with research showing that the average person in the UK spends almost six years cleaning the house and dealing with household chores, it seems only right to bring a touch of glamour to the ironing!
Hitting the production lines this month is Dutch stylist's Gerda Elzenaar's striking yet feminine 'Cherry Blossom' design. Crowned the international winner of Brabantia's 2011 Iron in Style competition for her floral design Gerda said: "The delightful scent of clean linen inspired me to a fresh painting with spring blossoms. Iron your laundry springtime fresh!"
The second new design 'Gecko' offers a sharp, contemporary look, in subtle blue, grey and black. Its creator Liz Roques has used a stylised gecko motif to symbolise the coming of summer. It's available on both the ironing table covers and rotary dryer covers.
David Slater, Sales Director at Brabantia, said: "At Brabantia we wanted to make ironing a more enjoyable experience. Animal prints and florals are a big hit in the fashion and interiors worlds this year - so why not accessorise your home with the latest trends too?"
Both covers are 100% cotton. The Cherry Blossom ironing table is 124 x 38 cm, with a solid steam iron rest and ivory frame.
The Gecko ironing table is available with a solid steam iron rest or a solid steam unit rest; in the dimensions 124 x 38 cm and features the new metallic grey frame.
The Ironing Tables are covered by a 10 year guarantee. Brabantia products are available from leading retailers, including high street department stores, superstores, quality independent housewares and kitchen product specialists.
For more information, visit brabantia.com.