Fleur and Linda are not just neighbours, but Beverley sisters!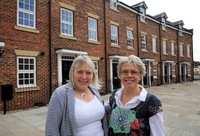 They say everybody needs good neighbours – but Fleur Duke and Linda Boyes have gone one better.
After confidently buying her new home from plan at Linden Homes' development in Beverley near Hull, Fleur recommended the development to her sister – who has now moved into a three-storey townshouse just across the road !
A glowing report from Fleur about the St Nicholasgate development, and the Linden Homes site and sales teams, was enough to tempt Linda into reserving.
With reserving her two-storey home from plan, Fleur has been able to see its transformation from the foundation stage right to completion. She said: "I simply love the location and all my friends have been very impressed with my new home – including my sister Linda!
"It is a real privilege for us both to be there at what we feel is the start of a blossoming community. It's exciting to see the development take shape, as the hoardings are beginning to come down and the beauty of the new landscaping and houses is beginning to emerge. We both really enjoy that we live only a few minute's walk away from the station and town centre shops and yet it's so peaceful."

Linda added: "Fleur and I are very similar and yet different at the same time! Our choice of home reflects our different personalities and needs. They feel and look so different and yet they have the same high standard of heating, insulation, environmental features and 'finish'. We see each other each day usually arriving at the other's door with a mug of tea in hand!"
Located close to the town centre, once complete St Nicholasgate will comprise a fabulous selection of 130 carefully-designed two, three and four-bedroom energy efficient homes - built in varying styles to appeal to everyone from first time buyers, families, couples or single occupants.

Prices at the development currently range from £154,950 to £249,950. The sales and marketing suite and show home are open daily from 10.30am until 5pm. Alternatively, visit lindenhomes.co.uk.