Attack of the allergies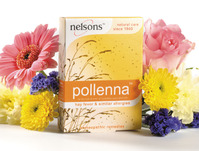 National Allergy Week is taking place this week (23rd- 29th April) attacking the allergies that impact on the everyday lives of the 21 million Brits! Allergies are continuing to affect huge numbers of the population, with the latest survey revealing that 51% of women experience at least one allergy, and are even rumoured to affect the Duchess of Cambridge, Kate Middleton! . 37% of men also experience at least one allergy.
Hay fever is the most common allergy in the UK, with those allergic to various types of pollen experiencing symptoms that may include itchy eyes, a runny nose, sneezing and sinus pain. With experts suggesting that the hay fever season will begin even earlier this year and will be much worse than in previous years , it is extremely important that those who are susceptible are prepared in advance.
However, it is not just factors in the outside world that can lead people to experience allergic reactions. Common aversions to dust mites and pets can also cause similar issues, leaving sufferers with runny noses, itchy eyes and sneezes all year round as a result of allergens found at home!
Homeopathic expert, Susanne Haar from the Nelsons Pharmacy, comments: "For people suffering with allergies, there are a number of natural homeopathic remedies that can help to soothe the symptoms. For example, Allium cepa, also known as red onion, has been used for years to help clear blocked noses and headaches and is often found in homeopathic remedies. By taking a homeopathic remedy, the body's own natural healing processes are stimulated."
If you suffer with allergies, non drowsy homeopathic remedy, Nelsons Pollenna, can help to provide gentle and soothing relief for symptoms of hay fever and similar allergies. Pollenna costs £4.90 and is available from Boots, Holland and Barrett, selected Tesco's and Lloyds pharmacies and all good independent health food and pharmacy stores. If symptoms persist or worsen, consult your doctor. Always read the label. To find out more about Pollenna visit nelsonsnaturalworld.com.