Find out about 95% mortgages in Halifax this weekend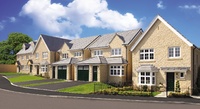 Savings of around £7,000 could be enough to secure a brand new home in Halifax, where Redrow is holding a special event to explain how people can buy the home of their dreams without a large cash deposit.
NewBuy is available at Wheatley Chase giving buyers the offer of a 95% mortgage on all of the properties available.
And this Sunday (May 6) Redrow will be explaining how buyers can use the Government-backed scheme to buy a brand new home from the sought-after New Heritage Collection.
Patsy Aicken, sales director for Redrow Homes (Yorkshire) says: "We've received lots of enquiries from people eager to find out more about NewBuy and how it can help them access competitive interest rates even if they haven't got a large cash sum to put down as a deposit.
"Customers have been delighted to discover it's not just first time buyers who can benefit from the scheme and that those who want to climb the property ladder may also be able to use NewBuy. This Sunday we'll be answering purchasers' questions about NewBuy and our mortgage specialists will be on hand to offer financial advice."
NewBuy is available on a choice of three and four-bedroom homes at Wheatley Chase. Prices start from £139,999, which means those with savings of around £7,000 could find they have enough to secure a home of their own.
"We know that lots of people want to buy our new homes and NewBuy will hopefully provide them with the means. It could be the difference between buying an older property that's in need of lots of repairs and modernisation and buying a beautiful brand new home," Patsy added.
"Boasting a high specification as standard, our homes feature well-equipped kitchens with integrated top brand name appliances including microwave, oven and fridge freezer, bathrooms and en-suites that enjoy quality fixtures and fittings, plus energy efficient measures that should help homeowners save money on their fuel bills."
Alternatively those starting out in life may qualify for FirstBuy. The scheme allows first time buyers and potentially those returning to home ownership to defer paying up to 20% of the price of a brand new home, making their mortgage repayments easier to afford.
Visit Wheatley Chase in Keighley Road this Sunday (May 6) to discover how Redrow could help you buy your dream home.
For more information, visit redrow.co.uk.