All you need to know about 95% mortgages and NewBuy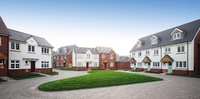 The news that 95% mortgages are back means home buyers need a much smaller deposit than some of the hefty sums that were previously being asked for by lenders.
Developer Redrow Homes is sharing the good news by hosting special events this weekend (May 5/6) to explain how the Government backed NewBuy scheme works and, importantly, how it makes owning a new home easier to afford.

The events will be held at the Village Green at Buckshaw Village, Chorley, Old Gate Park in Penwortham and Harbour Village in Fleetwood, with friendly sales staff on hand to talk about the options and mortgage specialists available to offer financial advice.
Redrow sales director Anita Williams explains: "The reintroduction of 95% mortgages has grabbed the headlines and created high levels of interest, but not everyone knows how it could help them. A lot of people mistakenly think it's only available to first time buyers when, in reality, it's open to anyone buying one of our new homes priced at up to £500,000.
"The events in Chorley, Penwortham and Fleetwood are designed to de-mystify the whole process and make buying one of our beautiful brand new homes as simple and straight forward as possible. People can call in at their convenience between 10am and 5.30pm to find out more."
NewBuy is available on a good choice of properties across Lancashire ranging from apartments to spacious family homes. With prices from just £85,000 for a one-bedroom apartment at Buckshaw Village, savings of around £4,000 could be enough to secure a brand new home. And home owners will enjoy all the benefits of living in a thriving community that includes shops, leisure amenities, a pub, sports pitches and a train station with regular services to Manchester and Preston.
Those climbing the ladder to a larger three or four-bedroom detached family home at The Village Green can also take advantage of NewBuy to avoid wiping out all their savings on a hefty deposit or perhaps overcome the issue of not having sufficient equity in the home they're selling.
Among the properties available with NewBuy at Harbour Village, in Fleetwood is the four-bedroom Kenilworth at £159,995. It includes a sumptuous master bedroom with en-suite in the loft space and has a lovely spacious lounge with patio doors onto the garden. Harbour Village is situated alongside a marina in a popular seaside location on the Fylde Coast. Current prices range to £247,995 for the four-bedroom detached Cambridge.
Or home buyers may prefer a four-bedroom detached family home on the outskirts of Preston, at Old Gate Park on Penwortham, where prices are from £218,995 to £299,995.
Homes at all three locations are from Redrow's hugely popular New Heritage Collection, which combines traditional Arts & Crafts inspired exteriors with bright, modern, family friendly interiors.
Lenders participating in the NewBuy scheme will provide a 90-95% mortgage for buyers who meet their qualifying criteria; the lenders will be protected by a mortgage indemnity guarantee (MIG) jointly funded by Redrow and the Government.
NewBuy events take place at the Village Green phase of Buckshaw Village, Chorley; Old Gate Park in Penwortham and Harbour Village in Fleetwood this weekend (May 5/ 6).
For more information, visit redrow.co.uk.