A sensuous Moroccan living room from Maroque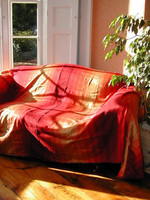 As the promise of a glorious British summer, seems to sadly be slipping away, again, why not recreate the heady warmth of a Moroccan summer evening in your living room.
From the deepest shades of amber to earthy terracottas, twinkling brass and sultry lighting will have you languishing in your Moroccan den in no time!
One of the favourite colours used on Moroccan walls is terracotta; the enveloping warmth of earthy colours can create a truly seductive atmosphere.
In the most luxurious homes in Morocco the walls are covered in tadlekt, this ancient plastering technique makes the walls reflect the light and almost appear to glow from within.
The labour intensive process of creating tadlekt involves using lime dust to produces a hard waterproof surface, the plaster is painstakingly polished to make it as hard as marble, painted with egg whites, and finished with black soap.
But a similar finish can be created by painting your walls a shade of terracotta and then sponging them with a slightly paler colour, such are peach, this will create a warm glow and add depth to your wall.
Subdued lighting is key in creating an atmosphere full of warmth: sensuous and inviting. A few brass lanterns dotted about, twinkling with candle light reflecting their soft patterns on the walls, adds an instant sense of intimacy and warmth.
A larger centre light can be an ideal opportunity to show your bold and daring side, with a strikingly large antique style Moroccan lamp. These stunning lamps, while not ideal for creating bright light, have the ability to take your breath away when illuminated. Casting a myriad of intricate patterns in shadow and colour across your ceiling and walls, and creating an atmosphere that is exotic, mysterious and at the same time cosy and sensuous.
As these hand crafted lamps are all individually made in the souks of Morocco, no two are identical and the patterns they created belong exclusively to you.
Hand woven Moroccan kilim rugs in their traditional bold red and black add a striking contrast to the subdued walls and subtle lighting. The traditional patterns used, dating back thousands of years, add a dimension of an ancient culture and a sense of the unknown, while fitting perfectly with your lighting and adding to your sensuous den.
While it's not practical to change your sofa each time you decorate your living room, changing the look of it can have a huge effect on the room. A Moroccan silk throw in the sumptuous shades of a Moroccan sunset, burning red, deepest orange, dazzling amber and burnished copper, conjures the sense of the heat at the end of a glorious Moroccan day.
A Moroccan inspired living room can seem vibrant and alive, mysterious and exotic, yet at the same time warm and welcoming. Have fun creating!
Maroque is the UK's leading retailer of all things Moroccan, from gorgeous lamps in all sizes, furniture, soft furnishings, and ceramics including the widest range available of tagines, to hard to find Moroccan and Middle Eastern ingredients.
As well as being a comprehensive resource: from what to do with your tagines, decorating ideas to inspire, a host of recipes, including entertaining ideas, and a guide to the more unusual ingredients, to how to wire a Moroccan lamp.
For more information, visit maroque.co.uk.